September 2023
| Mon | Tue | Wed | Thu | Fri | Sat | Sun |
| --- | --- | --- | --- | --- | --- | --- |
| | | | | 1 | 2 | 3 |
| 4 | 5 | 6 | 7 | 8 | 9 | 10 |
| 11 | 12 | 13 | 14 | 15 | 16 | 17 |
| 18 | 19 | 20 | 21 | 22 | 23 | 24 |
| 25 | 26 | 27 | 28 | 29 | 30 | |
Calendar
Statistics
We have
464
registered users
The newest registered user is
kumarsharma91910
Our users have posted a total of
33527
messages in
5015
subjects
THAT'S ENTERTAINMENT
CLICK ON ANY OF THESE LINKS TO FIND OUR EXTREME ENTERTAINMENT

71 WGT TUTORIALS & 32 YOUNG46 TUTORIALS
CLICK HERE
TO SEE OVER 100 YOUTUBE VIDEO TUTORIALS . FROM WGTers , WGT & YOUNG46
FORUM UPDATE
TO THE MANY WELCOME GUESTS . THIS FORUM IS NO LONGER A COUNTRY CLUB WEBSITE FOR A WGT COUNTRY CLUB . PLEASE FEEL FREE TO READ THE FORUMS.

THERE ARE MANY TOPICS OF INTEREST . OR NOT . THIS WEBSITE IS AN INFORMATION AND ENTERTAINMENT WEBSITE ONLY .

MUCH OF THE CONTENT IS ARCHIVES OF PURPOSES PAST .

THERE ARE SOME MORE CURRENT TOPICS .
REGISTRATION IS NOT NECESSARY TO READ THROUGHOUT .

REGISTRATION IS EASY AND FREE . THIS IS AN AD FREE WEBSITE . NOTHING IS EVER REQUESTED FROM REGISTERED MEMBERS .
REGISTRATION ENABLES COMMENTING ON TOPICS . POSTING NEW TOPICS . FULL ACCESS TO THE WEBSITE IMAGE HOST . WHICH IS A VERY COMPLETE AND CONVENIENT TOOL .

PLEASE ENJOY .

ALL NEW
TIER & AVERAGE REQUIREMENTS
BASIC LEVEL AND AVERAGE REQUIREMENTS , AND SATURATION
WHILE YOUR HERE
WHILE YOUR HERE :
CHECK OUT THE INCREDIBLE PHOTOGRAPHY IN

MY SERIES

&

& MORE . ALL IN THE FORUM
THIS USED TO BE THE HOME OF OUR WORLD CLOCK . WHICH CAN NOW BE FOUND IN ITS OWN FORUM ON THE MAIN PAGE ..
THERE ARE MORE WORLD CLOCKS INSIDE HERE .
BLITZ 16
Supposedly . We'll see .

Ginger Cat Appreciation Day

See a ginger, pet a ginger! Let us celebrate our uniquely colored and affectionate feline companions.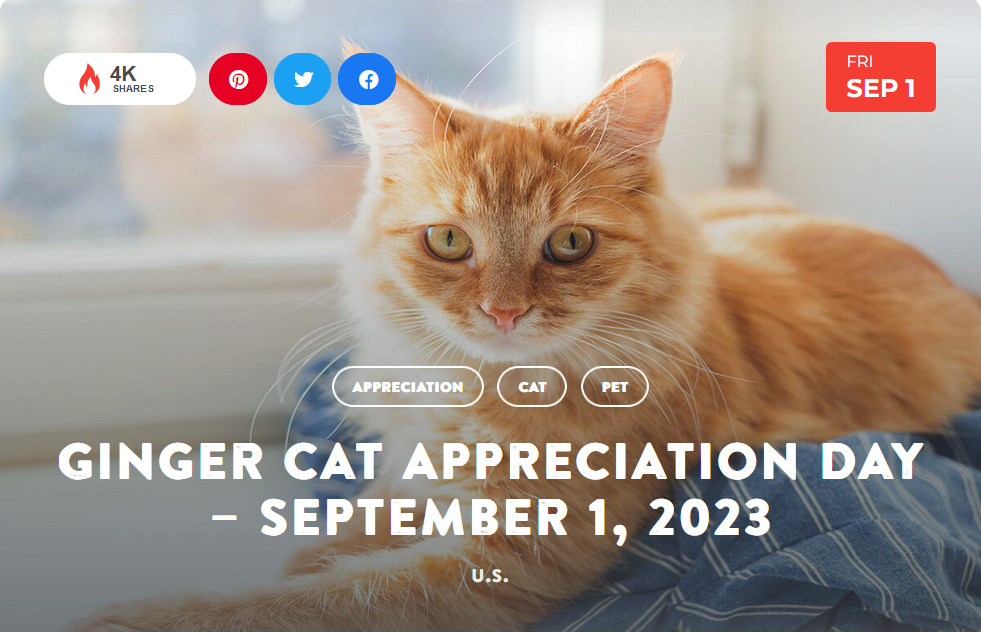 It sure smells like catnip in here as we come together to celebrate Ginger Cat Appreciation Day on September 1. Founded by American software developer Chris Roy, this fun holiday honors the gingers of the feline world. Super clingy, often misunderstood, and always ready to take a petting, these orange furballs are supercelebrities of the cats. The day also calls for establishing a connection with the stray animals and encourages people to provide them with food and shelter. So take this blessed day to pet a stray, stream "Garfield," and appreciate the gingers in your life.
History of Ginger Cat Appreciation Day
Oftentimes the turn we are least expectant to take ends up changing our lives. Such is the story of Chris Roy, a software developer turned animal rights activist. In 1997, Roy found a stray cat near his home. Out of pity, he carried the stray home and decided to foster him for a while. Little did he know how that runt of the litter would change the purpose of his life. Within weeks, Roy formed a special bond with the feline and gave him a permanent place in his house. The 14-pound tabby filled Roy's day with warmth and belonging. Doobert, the name he gave to his ginger, lived for 17 years.
In 2014, Doobert's death rocked the shores of Roy's life and sucked him into deep corners of uncharted grief. Grappling with the loss of his beloved ginger, Roy dedicated the arrival of September 1 as Ginger Cat Appreciation Day. He also launched Doobert, an online app that connects rescue homes and animal shelters with volunteers throughout the world. Since 2014, Doobert has worked with over 1,200 organizations across North America and built a volunteer base of 27,000+ pet lovers and enthusiasts. By dedicating the day in memory of his cat, Roy aims to raise awareness about the divine duty of humans to look after our furry friends.
With the annual celebration of Ginger Cat Appreciation Day, we pledge to carry the loving spirit of Doobert with us and spread the message of animal welfare across the globe. Reach out to your local shelters, feed the strays of your community, and raise a toast to the amazing companionship that our pets provide us.
Ginger Cat Appreciation Day Activities   Learn all about your pet
   Sure you know the breed and the kind of food it likes, but are you aware of its irks and irritations? Do you know its history or place of origin? On Ginger Cat Appreciation Day, take a deep dive and learn all about your furry companions. 
 Spoil a stray
   Roy, the founder of Doobert, believes that all animals deserve to live a life free from pain, injury, thirst, and hunger — and we agree. On September 1, take a stroll around your community and pet all the strays. Feed them catnip, tuna, or salmon, and forge an everlasting bond. 
 Donate to local animal shelters
   Whether it is your coin or your hours, the local animal shelter needs it all. Take some time to visit your local animal shelter and acquaint yourself with its hard-working staff. You can also commit to volunteering every once in a while.
5 Facts About Ginger Cats That Will Make You Want To Adopt   The ginger gene
   Ginger cats get their color due to the ginger gene that is present in the X chromosome. 
 The human connection
   Ginger cats get their orange color from a pigment called pheomelanin, which is also responsible for the red hair in humans. 
 Five coats, one color
   Ginger cats have five different types of coats: spotted, patched, ticked, mackerel, and swirled.   
A camera lover
   Ginger cats have starred in several iconic movies, including "Harry Potter," "Shrek," "Breakfast at Tiffany's," and of course, "Garfield."   
Foodie and moody
   Ginger cats can put on weight quickly as they have a trait of perpetual snacking.
Why We Love Ginger Cat Appreciation Day   Adopt don't shop
   Roy, the founder of this special day, discovered a runt in a litter that changed his life. On Ginger Cat Appreciation Day, we take his message forward and raise awareness about the merits of adopting strays and caring for the street felines. 
 Felines are forever
   Cats and humans share an unbreakable bond that dates back to thousands of years. They are our original furry companions, and on September 1, we get a chance to celebrate the tabbies of our lives.   
Break the stigma
   The assertive nature of ginger cats makes them a skip at the pet store. They are the second least favorable felines for adoption, after black cats. The orange color is an irk as well. But there is so much more to them than the color of their coat, and we must raise awareness to make them desirable to adoptees.
---
Permissions in this forum:
You
cannot
reply to topics in this forum