December 2023
| Mon | Tue | Wed | Thu | Fri | Sat | Sun |
| --- | --- | --- | --- | --- | --- | --- |
| | | | | 1 | 2 | 3 |
| 4 | 5 | 6 | 7 | 8 | 9 | 10 |
| 11 | 12 | 13 | 14 | 15 | 16 | 17 |
| 18 | 19 | 20 | 21 | 22 | 23 | 24 |
| 25 | 26 | 27 | 28 | 29 | 30 | 31 |
Calendar
Statistics
We have
469
registered users
The newest registered user is
zifah
Our users have posted a total of
38063
messages in
5585
subjects
THAT'S ENTERTAINMENT
CLICK ON ANY OF THESE LINKS TO FIND OUR EXTREME ENTERTAINMENT

71 WGT TUTORIALS & 32 YOUNG46 TUTORIALS
CLICK HERE
TO SEE OVER 100 YOUTUBE VIDEO TUTORIALS . FROM WGTers , WGT & YOUNG46
FORUM UPDATE
TO THE MANY WELCOME GUESTS . THIS FORUM IS NO LONGER A COUNTRY CLUB WEBSITE FOR A WGT COUNTRY CLUB . PLEASE FEEL FREE TO READ THE FORUMS.

THERE ARE MANY TOPICS OF INTEREST . OR NOT . THIS WEBSITE IS AN INFORMATION AND ENTERTAINMENT WEBSITE ONLY .

MUCH OF THE CONTENT IS ARCHIVES OF PURPOSES PAST .

THERE ARE SOME MORE CURRENT TOPICS .
REGISTRATION IS NOT NECESSARY TO READ THROUGHOUT .

REGISTRATION IS EASY AND FREE . THIS IS AN AD FREE WEBSITE . NOTHING IS EVER REQUESTED FROM REGISTERED MEMBERS .
REGISTRATION ENABLES COMMENTING ON TOPICS . POSTING NEW TOPICS . FULL ACCESS TO THE WEBSITE IMAGE HOST . WHICH IS A VERY COMPLETE AND CONVENIENT TOOL .

PLEASE ENJOY .

ALL NEW
TIER & AVERAGE REQUIREMENTS
BASIC LEVEL AND AVERAGE REQUIREMENTS , AND SATURATION
WHILE YOUR HERE
WHILE YOUR HERE :
CHECK OUT THE INCREDIBLE PHOTOGRAPHY IN

MY SERIES

&

& MORE . ALL IN THE FORUM
THIS USED TO BE THE HOME OF OUR WORLD CLOCK . WHICH CAN NOW BE FOUND IN ITS OWN FORUM ON THE MAIN PAGE ..
THERE ARE MORE WORLD CLOCKS INSIDE HERE .
Gold Star Mother's and Family Day

Honoring families of those who have received The Gold Star – the military award no one wants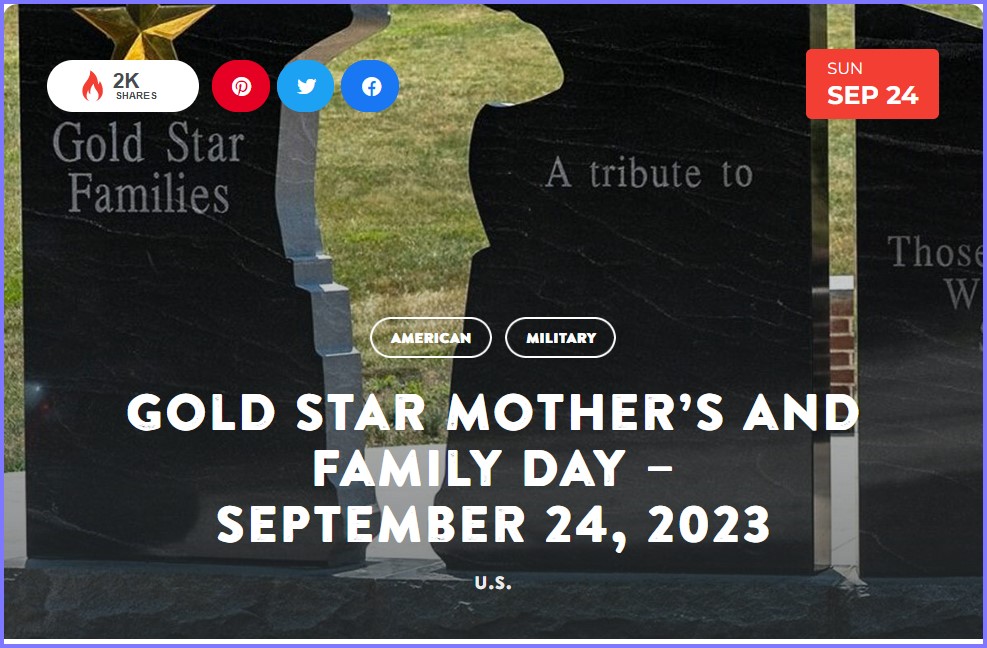 Gold Star Mother's and Family Day falls on September 24 this year and is traditionally observed on the last Sunday in September. The day is for honoring families of those who have received The Gold Star – the military award no one wants. The award commemorates the tragic death of a military member who has perished while in the line of duty and hopes to provide a level of comfort to the parents and families that are left behind. Since World War 1, a "Gold Star Family" has signified a family that has lost one of its members in combat. The family can display a Gold Star Service Flag for any military family members who have died from any honorable cause – each gold star on the flag signifies a death. Though today only around 1% of the country is involved in military service, as compared to the 12% during other times of war, like World War 2, there are still a significant number of surviving Gold Star families – not to mention, a Gold Star lives on in a family's legacy.
History of Gold Star Mother's and Family Day
Though the exact roots of the tradition aren't totally known, it was during World War 1 that the gold star came to symbolize that a family member had fallen in battle. Around that time, the term "Gold Star Family" came to mean that you were a surviving family of a person who died in service and families hung banners with a gold star outside their homes. The tradition has since been authorized and seeks to ease the grief of mothers and families while reminding that no one truly serves alone.
Gradually, there came to be many ways for grieving family members to honor their loved ones with symbols worn or places outside the home. In 1918, President Wilson allowed grieving military mothers to wear a traditional black armband featuring a gold star. Soon after, it was approved for families to cover the blue star on the service flag outside of their home with a gold one. As of 1947, Gold Star family members can also display the Gold Star Lapel.
The American Gold Star Mothers Inc. first got its start in 1917, when Grace Siebold's son was killed during World War 1. Wanting to create a support system for grieving mothers in similar circumstances, Grace gathered what would become the American Gold Star Mothers to grieve together and tend to hospitalized veterans in local hospitals. The organization was formalized as a non-profit in 1928, with a mission of remembrance, education, and patriotism. Still today, they support Gold Star mothers in their grief, hold an annual conference, and organize events with supporting groups.
Though Gold Star Mother's and Family Day isn't observed as a National, federal holiday like Memorial Day, it was declared by Congress in 1936 to be the last Sunday in September – though, at the time, it was only known as "Gold Star Mother's Day." It was in 2011 that President Obama amended the declaration, declaring the day to include families as well as mothers. Today, the holiday includes any immediate family member and authorizes that person to display the Gold Star Service Flag.
Today, America is not embroiled in any kind of conflict like World War 1 or 2, and far fewer individuals consider Gold Star heroes and their families – oftentimes, people may think that they don't know anyone in a Gold Star Family. However, there are many more Gold Star families from previous wars than you may think, and since over 1.3 million people are involved in the military today, it's possible you know a family that still grieves a recent fallen soldier. Understanding the sacrifice and acknowledging the holiday are the best ways to support the families and honor the soldiers.
How to Observe Gold Star Mother's and Family Day
[list="holiday-list holiday-list-celebrate"][*]
Read about the heroes who made the ultimate sacrifice
Endless family testimonials, articles, and other media can be found to learn more about the lives of our brave servicemembers. This Gold Star Mothers and Family Day, learn more about their bravery and honor their memory.
[*]
Donate to an organization that supports Gold Star Mothers and Families
Many organizations are dedicated to supporting Gold Star Mothers and Families emotionally and with other benefits. Specifically for mothers, you can donate to the American Gold Star Mothers Inc. Other organizations to consider are Snowball Express and fallenpatriots.org, but do your own research and determine where your money is best donated.
[*]
Visit a Gold Star soldier's grave
Gold Star soldiers must not be forgotten, and a great way to remind ourselves of their sacrifice is to visit their grave. You might consider laying some flowers or a flag at their resting place.
[/list]
5 Important Facts About Gold Star Mother's And Family Day
[list=holiday-listicle__list][*]
The American Gold Star Mothers are headquartered in California
Called "The Gold Star Manor," a home on a 23-acre piece of land in Long Beach, CA serves as the headquarters for the American Gold Star Mothers.
[*]
There is a National Gold Star Families Registry
This program honors fallen soldiers by keeping a registry of their deaths, so as to properly recognize them publicly.
[*]
Gold Star Mothers raise money for Wreaths Across America
During the holidays, the American Gold Star Mothers partner with Wreaths Across America, helping them raise money to put wreaths on the graves of gold star soldiers.
[*]
There are over 470,000 Gold Star Families
While you may not think you know a Gold Star Family, with approximately 472,050 Gold Star Families reported by the National Gold Star Family Registry, you actually might.
[*]
There is a specific organization for Gold Star Wives
While wives are encompassed in the meaning of a Gold Star Family, the separate organization Gold Star Wives provides support and benefits to the wives and children of fallen soldiers.
[/list]
Why Gold Star Mother's and Family Day is Important
[list="holiday-list holiday-list-loveit"][*]
It emotionally supports the families left behind
One of the most important things to Gold Star Mothers and Families is ensuring their loved one is not forgotten. When we display our commitment to remembering their soldier, we can all help ease the burden of their grief.
[*]
It reminds us of our gratitude
We can often take the freedom we enjoy in the United States for granted but this holiday reminds us that freedom is not without a price; in this case, the ultimate price. We're going to spend some time today appreciating the freedom we enjoy every day while being mindful of why we have it.
[*]
It raises awareness of the military
Though oftentimes the meaning of Memorial Day is overlooked, Gold Star Mother's and Family Day reminds us all of the purpose of the holiday. It also raises awareness of the heroism that our military members display regularly.
[/list]
---
Permissions in this forum:
You
cannot
reply to topics in this forum