December 2023
| Mon | Tue | Wed | Thu | Fri | Sat | Sun |
| --- | --- | --- | --- | --- | --- | --- |
| | | | | 1 | 2 | 3 |
| 4 | 5 | 6 | 7 | 8 | 9 | 10 |
| 11 | 12 | 13 | 14 | 15 | 16 | 17 |
| 18 | 19 | 20 | 21 | 22 | 23 | 24 |
| 25 | 26 | 27 | 28 | 29 | 30 | 31 |
Calendar
Statistics
We have
471
registered users
The newest registered user is
JCB
Our users have posted a total of
38285
messages in
5632
subjects
THAT'S ENTERTAINMENT
CLICK ON ANY OF THESE LINKS TO FIND OUR EXTREME ENTERTAINMENT

71 WGT TUTORIALS & 32 YOUNG46 TUTORIALS
CLICK HERE
TO SEE OVER 100 YOUTUBE VIDEO TUTORIALS . FROM WGTers , WGT & YOUNG46
FORUM UPDATE
TO THE MANY WELCOME GUESTS . THIS FORUM IS NO LONGER A COUNTRY CLUB WEBSITE FOR A WGT COUNTRY CLUB . PLEASE FEEL FREE TO READ THE FORUMS.

THERE ARE MANY TOPICS OF INTEREST . OR NOT . THIS WEBSITE IS AN INFORMATION AND ENTERTAINMENT WEBSITE ONLY .

MUCH OF THE CONTENT IS ARCHIVES OF PURPOSES PAST .

THERE ARE SOME MORE CURRENT TOPICS .
REGISTRATION IS NOT NECESSARY TO READ THROUGHOUT .

REGISTRATION IS EASY AND FREE . THIS IS AN AD FREE WEBSITE . NOTHING IS EVER REQUESTED FROM REGISTERED MEMBERS .
REGISTRATION ENABLES COMMENTING ON TOPICS . POSTING NEW TOPICS . FULL ACCESS TO THE WEBSITE IMAGE HOST . WHICH IS A VERY COMPLETE AND CONVENIENT TOOL .

PLEASE ENJOY .

ALL NEW
TIER & AVERAGE REQUIREMENTS
BASIC LEVEL AND AVERAGE REQUIREMENTS , AND SATURATION
WHILE YOUR HERE
WHILE YOUR HERE :
CHECK OUT THE INCREDIBLE PHOTOGRAPHY IN

MY SERIES

&

& MORE . ALL IN THE FORUM
THIS USED TO BE THE HOME OF OUR WORLD CLOCK . WHICH CAN NOW BE FOUND IN ITS OWN FORUM ON THE MAIN PAGE ..
THERE ARE MORE WORLD CLOCKS INSIDE HERE .
World Teachers' Day

Matilda had Ms. Honey, Harry had Dumbledore, and Cady had Ms. Norbury!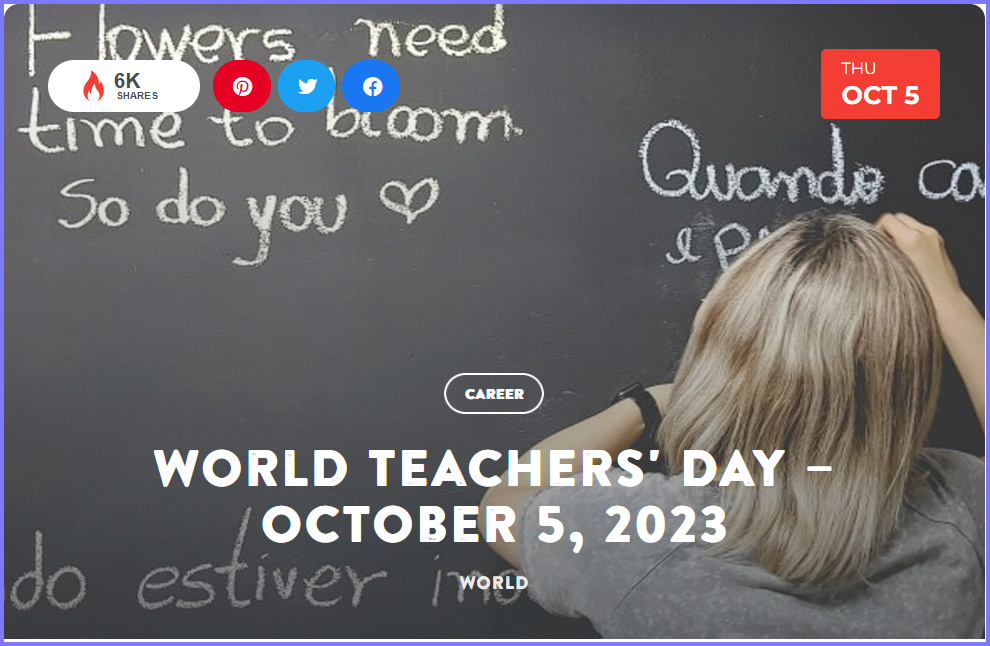 Almost everybody has a favorite teacher, someone who went above and beyond to encourage you because they could see your potential. On October 5, take time to celebrate World Teachers' Day — a global event launched by the United Nations Educational, Scientific and Cultural Organization (UNESCO) in 1994.
Just as Matilda had Ms. Honey, Harry had Dumbledore, and Cady had Ms. Norbury, maybe you're a teacher working hard to help young people learn and grow.  Considering that teachers mold future generations, taking one day every year to say "thank you" is the least we can do. No matter where you are in the world today, remember that teachers matter! Become teacher yourself, educators from around the world fund students to learn and become one of them.
Find a scholarship
that will fit your education needs on this World Teachers' Day.
When is World Teachers' Day 2023?
World Teachers' Day is held annually on October 5. That has been the case since the first observation way back in 1994.
History of World Teachers' Day
This holiday marks the anniversary of the adoption of the 1966 UNESCO Recommendation concerning the Status of Teachers. It sets standards regarding the rights and responsibilities of teachers for their initial preparation, further education, recruitment, employment, and learning conditions.
UNESCO's 2020 message: "With the theme: 'Young Teachers: The Future of the Profession,' we recognize the critical importance of reaffirming the value of the teaching mission. We call upon governments to make teaching a profession of first choice for young people. Above all, we celebrate the work of dedicated teachers around the world who continue to strive every day to ensure that 'inclusive and equitable quality education' and the promotion of 'lifelong learning opportunities for all' become a reality in every corner of the globe."
The official event will take place at UNESCO Headquarters in Paris on October 7 .
World Teachers' Day related content
World Teachers' Day Around the World
World Teachers' Day Around the World
[th]Country[/th][th]Holiday[/th][th]Occasion[/th][th]Date[/th]
Chile
Día del Maestro (Teacher's Day)
After being moved around a few times, Chile finally settled on October 16 to honor their Teachers' Association
October 16
Costa Rica
Teacher's Day
Those in Costa Rica use this date to commemorate Mauro Fernández Acuña, a reformer of education in their country.
December 22
New Zealand
Teacher's Day
Those in New Zealand choose to honor their teachers at the end of October each year.
October 29
South Korea
Teacher's Day
Teachers are usually presented with carnations by their students and ex-students.
May 15
World Teachers' Day Stats
In India, the share of female teachers declines with the remoteness of schools, from 60% when the school is located at the local government seat to 30% when it is 30 km away.

More teachers are needed in displacement settings. If all refugees enrolled, Turkey would need 80,000 additional teachers, Germany would need 42,000 teachers and educators, and Uganda would need 7,000 additional primary teachers. Yet refugee teachers are often excluded from national training programs because of professional regulations on right to work.

Nearly 94% of teachers in pre-primary education, but only about half of those in upper secondary education, are female.

The proportion of women among primary school teachers in low-income countries (41%) is half that in high-income countries (82%).

In low-income countries, only 23% of secondary school teachers are women.

At the tertiary level, only 19% of teachers are women in low-income countries and about 46% or less in the other income groups.

How to Observe World Teachers' Day
[list="holiday-list holiday-list-celebrate"][*]
Surprise your teacher with a gift
Kids can show their appreciation by giving their teacher a heartfelt "thank you" card, surprising them with homemade crafts or drawings, or by writing a poem of admiration.
[*]
Make teachers feel special
Parents love teachers, too! Show just how much on World Teachers' Day. Collaborate with your local PTA to set up a raffle with gift cards, coffee mugs and other prizes. Provide coffee and donuts or ask parents to set up a potluck breakfast for teachers before the school day begins.
[*]
Give teachers the royal treatment
Being a teacher can be stressful, exhausting and frustrating. On World Teachers' Day, school administrations should pamper their teachers. Having lunch catered or surprising teachers with a 10-minute massage are great ways to let teachers know that their hard work doesn't go unnoticed. If October 5 falls on a weekend, celebrate on the Friday before or the Monday after.
[/list]
5 Things To Learn About Teachers
[list=holiday-listicle__list][*]
Confucius was the First Teacher
Historically, Confucius is considered to be the first private teacher in history.
[*]
Education for all
According to UNESCO, the world needs 69 million teachers in order to achieve the goal of providing universal primary and secondary education by 2030.
[*]
The number of African educators are dwindling on the continent
Sub-Saharan Africa is the area facing the greatest deficit of teachers.
[*]
Teaching standards are plummeting
According to UNESCO, less than 75% of teachers in one-third of the world's countries only meet the minimum teacher training standards.
[*]
Learning proficiency is down
6 out of 10 children worldwide—a total of 617 million—do not meet the minimum requirements for competency in mathematics and reading.
[/list]
Why World Teachers' Day is Important
[list="holiday-list holiday-list-loveit"][*]
It honors the teaching profession
Waking up at the crack of dawn, having the patience of a saint and being a positive influence is stressful work — let's face it, Cady would still be a mean girl if it wasn't for Ms. Norbury. On World Teachers' Day, gifts, praise and parties are great ways to show you care.
[*]
It highlights current Issues affecting teachers
Sure, having summers off is a highly-coveted perk, but there are still many complex issues affecting teachers within educational systems throughout the world. These include maintaining academic freedoms, creating autonomy for educational institutions and developing and maintaining professional teaching standards in higher education. Fortunately, World Teachers' Day enables discussion in faculty meetings, webinars, seminars and conferences.
[*]
It applauds progress but challenges stagnation
Although the educational system and the role teachers play in it have come a long way, there is still a long way to go. Because of this, the United Nations created the 2030 Sustainable Development Goal for Education. World Teachers' Day is an annual reminder of this goal and the need to do more to encourage teachers to remain in education.
[/list]
---
Permissions in this forum:
You
cannot
reply to topics in this forum