December 2023
| Mon | Tue | Wed | Thu | Fri | Sat | Sun |
| --- | --- | --- | --- | --- | --- | --- |
| | | | | 1 | 2 | 3 |
| 4 | 5 | 6 | 7 | 8 | 9 | 10 |
| 11 | 12 | 13 | 14 | 15 | 16 | 17 |
| 18 | 19 | 20 | 21 | 22 | 23 | 24 |
| 25 | 26 | 27 | 28 | 29 | 30 | 31 |
Calendar
Statistics
We have
469
registered users
The newest registered user is
zifah
Our users have posted a total of
38066
messages in
5588
subjects
THAT'S ENTERTAINMENT
CLICK ON ANY OF THESE LINKS TO FIND OUR EXTREME ENTERTAINMENT

71 WGT TUTORIALS & 32 YOUNG46 TUTORIALS
CLICK HERE
TO SEE OVER 100 YOUTUBE VIDEO TUTORIALS . FROM WGTers , WGT & YOUNG46
FORUM UPDATE
TO THE MANY WELCOME GUESTS . THIS FORUM IS NO LONGER A COUNTRY CLUB WEBSITE FOR A WGT COUNTRY CLUB . PLEASE FEEL FREE TO READ THE FORUMS.

THERE ARE MANY TOPICS OF INTEREST . OR NOT . THIS WEBSITE IS AN INFORMATION AND ENTERTAINMENT WEBSITE ONLY .

MUCH OF THE CONTENT IS ARCHIVES OF PURPOSES PAST .

THERE ARE SOME MORE CURRENT TOPICS .
REGISTRATION IS NOT NECESSARY TO READ THROUGHOUT .

REGISTRATION IS EASY AND FREE . THIS IS AN AD FREE WEBSITE . NOTHING IS EVER REQUESTED FROM REGISTERED MEMBERS .
REGISTRATION ENABLES COMMENTING ON TOPICS . POSTING NEW TOPICS . FULL ACCESS TO THE WEBSITE IMAGE HOST . WHICH IS A VERY COMPLETE AND CONVENIENT TOOL .

PLEASE ENJOY .

ALL NEW
TIER & AVERAGE REQUIREMENTS
BASIC LEVEL AND AVERAGE REQUIREMENTS , AND SATURATION
WHILE YOUR HERE
WHILE YOUR HERE :
CHECK OUT THE INCREDIBLE PHOTOGRAPHY IN

MY SERIES

&

& MORE . ALL IN THE FORUM
THIS USED TO BE THE HOME OF OUR WORLD CLOCK . WHICH CAN NOW BE FOUND IN ITS OWN FORUM ON THE MAIN PAGE ..
THERE ARE MORE WORLD CLOCKS INSIDE HERE .
Slap Your Annoying Coworker Day
If someone at work is bugging you, don't be shy — take advantage.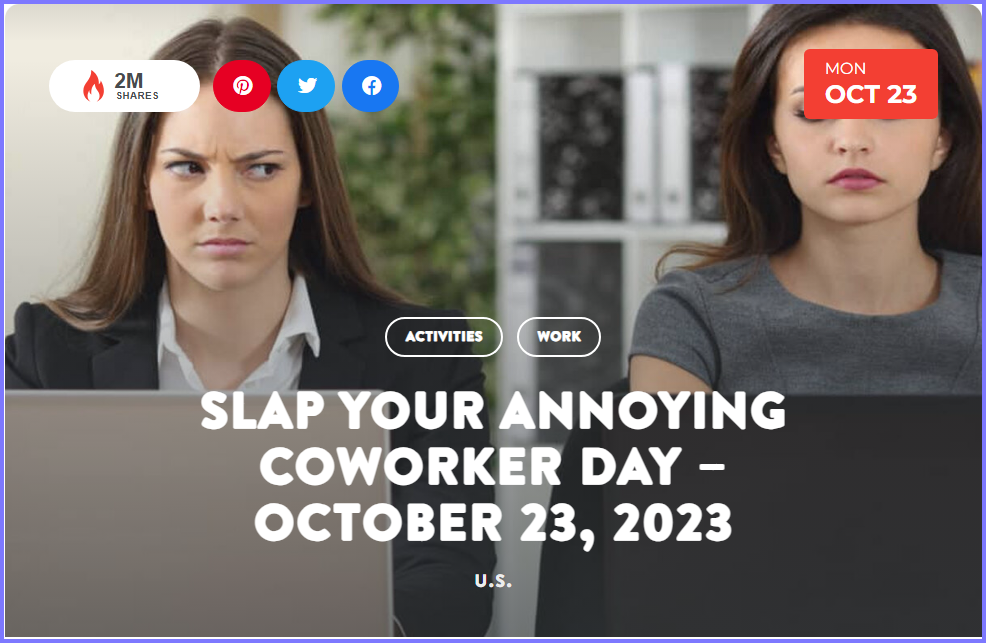 Your co-worker in the next cube is at it again — yakking it up nonstop, clipping her nails, popping her gum and sucking up to the boss. Normally, you just grin and bear it, but today is different because it is National Slap Your Annoying Coworker Day. This annual event takes place every October 23 — so if someone at work is bugging you, don't be shy — take advantage.
SLAP YOUR ANNOYING COWORKER DAY ACTIVITIES
[list="holiday-list holiday-list-celebrate"][*]
Watch a Three Stooges marathon

Without a doubt, you can't dissect the science of slapping without the Three Stooges. It is reported that Moe slapped Larry so much that one side of Larry's face felt like leather. (You definitely have to build up to that much slapping.) So, after you survive yet another day of torture with that most obnoxious of coworkers who sits two cubes over, enjoy back-to-back episodes of one of the funniest trios in film.
[*]
Perfect your slapping technique

Before you go into work, make sure you are ready to administer the most effective slap possible. You have, in fact, been flexing your hand muscles regularly in anticipation — and the day has finally arrived. Decide on the forehand slap, backhand slap or five finger slap. National Slap Your Annoying Coworker Day is rife with possibilities.
[*]
Train others on how to give a good slap

Since it's National Slap Your Annoying Coworker Day, don't keep all the fun to yourself. Spread the joy around. During the next break, train a group of your favorite coworkers on all the possible slapping scenarios. Help them with their coordination because there's nothing worse than winding up to slap somebody and missing the mark.
[/list]
5 THINGS TO SAY JUST BEFORE SLAPPING SOMEBODY
[list=holiday-listicle__list][*]
​"You're taking WHO?!"​

What a jilted prom date says to his/her (former) girlfriend/boyfriend
[*]
"You bought her a HOUSE?!"

Generally said to a cheating spouse.
[*]
"​I was just trying it out!"

Preferably said after you crash your girlfriend's car.
[*]
​​"Fresh!!"

What countless women have said to Groucho in countless Marx Brothers films
[*]
"What do the five fingers say to the face?"

"SLAP!!"
[/list]
WHY WE LOVE SLAP YOUR ANNOYING COWORKER DAY
[list="holiday-list holiday-list-loveit"][*]
It's a day for revenge

The French have a saying that "revenge is a dish best served cold." Basically, that's a stylish way of saying that when you want revenge, the longer you wait — the more impact you will have on your unsuspecting target. For example, your coworker hasn't shut his mouth from the moment he sat down in the cube next to yours AND he has gas. You have patiently waited for National Slap Your Annoying Coworker Day and you bought new leather gloves for the privilege — so just do it.
[*]
It has rules

As much as we love National Slap Your Coworker Day, you have to keep in mind that there are still rules for these one-sided fisticuffs. The rules dictate that you can only slap one person each hour but you can slap them once for each offense. If your supervisor tries to intervene, you can slap him/her, too — just bear in mind there may be consequences.
[*]
Not everybody gets slapped

As much as we adore the idea of National Slap Your Annoying Coworker Day, we would be remiss if we didn't remind everybody to exercise caution when celebrating this day. You should not use this as an excuse to go slapping anyone you don't like. Remember the spirit of the day and keep it to coworkers.
[/list]
Paul wrote:

Slap Your Annoying Coworker DayIf someone at work is bugging you, don't be shy — take advantage.



[list="holiday-list holiday-list-loveit"]

[*]

Not everybody gets slapped


As much as we adore the idea of National Slap Your Annoying Coworker Day, we would be remiss if we didn't remind everybody to exercise caution when celebrating this day. You should not use this as an excuse to go slapping anyone you don't like. Remember the spirit of the day and keep it to coworkers.

[/list]
---
Permissions in this forum:
You
cannot
reply to topics in this forum