December 2023
| Mon | Tue | Wed | Thu | Fri | Sat | Sun |
| --- | --- | --- | --- | --- | --- | --- |
| | | | | 1 | 2 | 3 |
| 4 | 5 | 6 | 7 | 8 | 9 | 10 |
| 11 | 12 | 13 | 14 | 15 | 16 | 17 |
| 18 | 19 | 20 | 21 | 22 | 23 | 24 |
| 25 | 26 | 27 | 28 | 29 | 30 | 31 |
Calendar
Statistics
We have
469
registered users
The newest registered user is
zifah
Our users have posted a total of
38065
messages in
5587
subjects
THAT'S ENTERTAINMENT
CLICK ON ANY OF THESE LINKS TO FIND OUR EXTREME ENTERTAINMENT

71 WGT TUTORIALS & 32 YOUNG46 TUTORIALS
CLICK HERE
TO SEE OVER 100 YOUTUBE VIDEO TUTORIALS . FROM WGTers , WGT & YOUNG46
FORUM UPDATE
TO THE MANY WELCOME GUESTS . THIS FORUM IS NO LONGER A COUNTRY CLUB WEBSITE FOR A WGT COUNTRY CLUB . PLEASE FEEL FREE TO READ THE FORUMS.

THERE ARE MANY TOPICS OF INTEREST . OR NOT . THIS WEBSITE IS AN INFORMATION AND ENTERTAINMENT WEBSITE ONLY .

MUCH OF THE CONTENT IS ARCHIVES OF PURPOSES PAST .

THERE ARE SOME MORE CURRENT TOPICS .
REGISTRATION IS NOT NECESSARY TO READ THROUGHOUT .

REGISTRATION IS EASY AND FREE . THIS IS AN AD FREE WEBSITE . NOTHING IS EVER REQUESTED FROM REGISTERED MEMBERS .
REGISTRATION ENABLES COMMENTING ON TOPICS . POSTING NEW TOPICS . FULL ACCESS TO THE WEBSITE IMAGE HOST . WHICH IS A VERY COMPLETE AND CONVENIENT TOOL .

PLEASE ENJOY .

ALL NEW
TIER & AVERAGE REQUIREMENTS
BASIC LEVEL AND AVERAGE REQUIREMENTS , AND SATURATION
WHILE YOUR HERE
WHILE YOUR HERE :
CHECK OUT THE INCREDIBLE PHOTOGRAPHY IN

MY SERIES

&

& MORE . ALL IN THE FORUM
THIS USED TO BE THE HOME OF OUR WORLD CLOCK . WHICH CAN NOW BE FOUND IN ITS OWN FORUM ON THE MAIN PAGE ..
THERE ARE MORE WORLD CLOCKS INSIDE HERE .
National Redhead Day
It's every redhead's chance to shine with each gorgeous strand of their hair.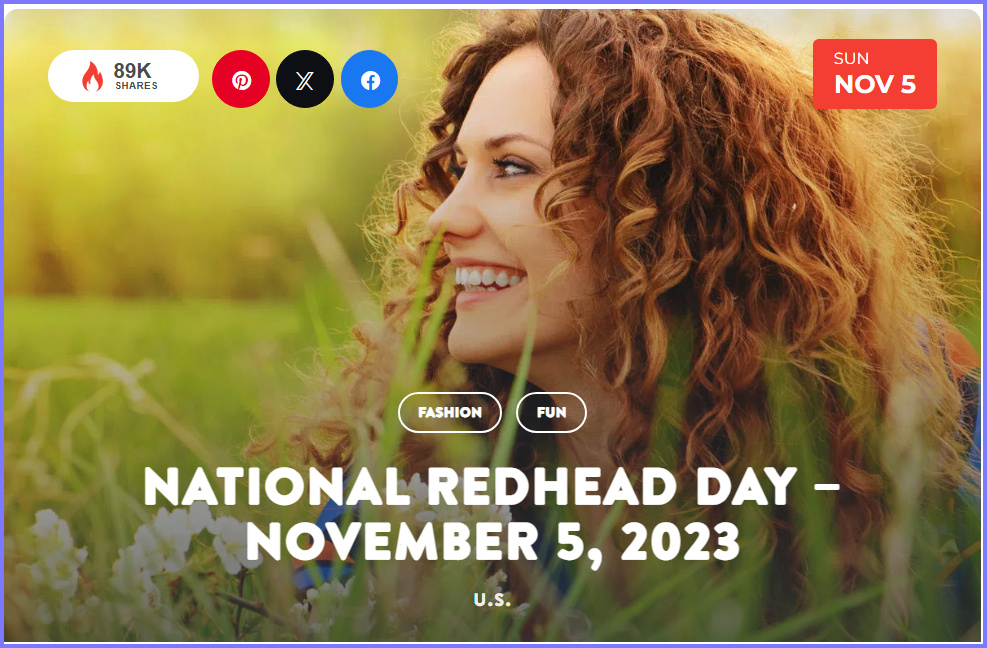 November 5 is National Redhead Day, and it's every redhead's chance to shine with each gorgeous strand of their hair. Redheads are often treated like the odd man (or woman) out, as they possess the rarest of hair colors. Plus, redheads are described as "fiery" and "hot-tempered." If you have red hair, today is your day to be however way you want!
WHEN IS NATIONAL REDHEAD DAY 2023?

Get in the spotlight and celebrate your fiery locks on National Redhead Day on November 5. Started by two ginger haired sisters, the day aims to empower redheads to embrace and rock their lush red tresses!
HISTORY OF NATIONAL REDHEAD DAY
Every November 5, National Redhead Day is also known as Love Your Red Hair Day in the United States, the United Kingdom and other parts of the world. Although the rest of us natural brunettes and blondes may throw a little shade (pun intended), people with red hair get this one day to celebrate their rarest of hair colors.
We have two redhead sisters to thank for coming up with Love Your Red Hair Day or National Redhead Day. In 2011, Adrienne and Stephanie Vendetti wanted people to be proud of their red hair in response to negative posts on a Kick a Ginger Day site. (The term, 'ginger,' is seen as a derogatory description of people with red hair." As part of their slapback, the sisters created their website, 'How To Be a Redhead,' which eventually added Love Your Red Hair Day.
How to be a Redhead is as of now, the world's only recognized brand dedicated to redheads. Since its inception in 2011, it has liberated redheads to look amazing and feel confident in their natural red locks.
A beauty book and monthly subscription box were also released under the brand of 'How to be a Redhead' in the same year. During a tour in 2015, the brand's first monthly beauty subscription box titled 'H2BAR Box' was released- providing all things beauty and accessories specifically for redheads. On April 12, 2016, the sisters went on to publish their 'How to be a Redhead' book, which amazingly was the first ever breakthrough beauty book geared towards redheads. It premiered as #1 on Amazon and flew off shelves worldwide. Recently in September 2019, the fabulous team behind this name, expanded their subscription box range and now offer a Deluxe H2BAR Box.
So, what makes redheads so special? It's all about genetics. If both your parents were born with the mutated MC1R gene on Chromosome 16, you're probably a redhead. But, you can still be born with red hair even if neither of your parents has it. Even if one of your parents is a redhead, there's one chance in two that their child may be red-haired. It's also possible to be a natural redhead if you're a black person or even, Chinese.
In historical folklore, redheads were often accused of being witches who "stole the fire of hell" and were later burned at the stake during the Spanish Inquisition. Additionally, red-haired people were seen as "unclean" nymphomaniacs. All of this, of course, is untrue but some of the stereotypes of redheads have lasted to this day. On National Redhead Day, rock your hair any way you like and hold your flame-colored head up proudly!
NATIONAL REDHEAD DAY AROUND THE WORLD

Redheads Retreat! Here are some popular events and festivals from across the globe worth checking out!

National Redhead Day Around the World[th]Country[/th][th]Holiday[/th][th]Occasion[/th][th]Date[/th]
Netherlands
Redhead Days Festival (Roodharigendag)
Redhead paradise! A festival for redheads annually!
August 27
Italy
Rossitalia
A large gathering of redheads to mingle and enjoy the fine things of life.
Last Sunday of May
Ireland
Redhead Convention
A wacky festival that celebrates the madness of gingers!
August 21
United Kingdom
Redhead Day Festival
The theme is simple: bring your red hair and freckles!
September
Australia
Ginger Pride Rally
A big party with good food, music, and of course, GINGER beer!
Sometime in Spring
NATIONAL REDHEAD DAY TRADITIONS

We love how Redheads come together annually on this day to show off their manes of traffic stopping red hair in full glory! Whether it is long, curly, short, straight, doesn't matter! It is all about red hair! Photos of these luxurious tresses grace our social media feeds, usually under the hashtag #LoveYourRedHairDay. These photos feature redheads rocking different hairstyles, parties thrown in honor of redheads in groups, or tributes paid to famous redhead starlets in Hollywood history. Movies featuring iconic redhead looks like that of Emma Stone or redhead celebrities like Molly Ringwald or Susan Sarandon to name a couple, are shown.
NATIONAL REDHEAD DAY BY NUMBERS
2% – The percentage of the world's population with red hair.
0.17% – The percentage of the world's total population who are blue-eyed redheads, making it the rarest colour combination for all human beings.
13% – The percentage of redheads in Scotland, the highest number anywhere.
30%- The percentage of primetime ads that feature a model with red hair.
90,000- The number of strands of hair that generally make up the redhead mane.
2- The number of Disney princesses who are redheads; Ariel and Merida.
20% – The percentage more anaesthesia that is required for redheads.
45,000 – The number of redheads killed between 1483 and 1784 as they were accused of practicing black magic.
NATIONAL REDHEAD DAY ACTIVITIES
[list="holiday-list holiday-list-celebrate"][*]
Rock your favorite hairstyle

Let your hair be the true star of the show! Head to a salon and get your hair done to show it some extra love.
[*]
Throw a party with fellow redheads

It may be a small party, but we bet it will be a good one! Get together with your other redhead friends and celebrate your rare and beautiful locks.
[*]
Pay homage to famous redheads in Hollywood

Put on your favorite movies and shows starring redheads. Think "I Love Lucy," "La La Land," "The Wizard of Oz," and countless others.
[/list]
​5 COLORFUL FACTS ABOUT REDHEADS
[list=holiday-listicle__list][*]
The rarest of the rare? Red hair and blue eyes

Though you may think redheads typically have blue eyes, you are wrong. Very few redheads have blue eyes — in fact most of them have brown. ​
[*]
Redheads grey slower​

Another plus of being a redhead is that their hair turns to grey slower than other hair colors. So enjoy and embrace that color even more! ​
[*]
​Redheads tend to be left-handed

Beating out both blondes and brunettes, more redheads are left-handed than any other hair color. Yet another thing that makes them stand out. ​
[*]
​Redheads have fewer hair strands

According to research, redheads have on average 90,000 strands of hair. This is fewer than brunettes who clock in at 140,000 strands and blondes at 110,000. ​
[*]
​Redheads are better at making Vitamin D

Redheads are great at making their own Vitamin D. This is likely because they have less eumelanin in their bodies than other hair colors, so they've got to make up for it somehow.
[/list]
WHY WE LOVE NATIONAL REDHEAD DAY
[list="holiday-list holiday-list-loveit"][*]
Authentic redheads are rare

Only 2% of the world's population has red hair. Now you see why it's worth all this celebration.
[*]
Redheads are considered mutants

No, not the Teenage Mutant Ninja Turtle type. Red hair is caused by the mutation of a gene that creates a new recessive gene, MC1R.
[*]
Red hair is royal hair

Another reason to celebrate redheads today (and everyday) is the fact that much of the British royal bloodline were redheads. Queen Elizabeth I herself was a proud redhead — and passed that gene down.
[/list]
---
Permissions in this forum:
You
cannot
reply to topics in this forum