December 2023
| Mon | Tue | Wed | Thu | Fri | Sat | Sun |
| --- | --- | --- | --- | --- | --- | --- |
| | | | | 1 | 2 | 3 |
| 4 | 5 | 6 | 7 | 8 | 9 | 10 |
| 11 | 12 | 13 | 14 | 15 | 16 | 17 |
| 18 | 19 | 20 | 21 | 22 | 23 | 24 |
| 25 | 26 | 27 | 28 | 29 | 30 | 31 |
Calendar
Statistics
We have
471
registered users
The newest registered user is
JCB
Our users have posted a total of
38283
messages in
5632
subjects
THAT'S ENTERTAINMENT
CLICK ON ANY OF THESE LINKS TO FIND OUR EXTREME ENTERTAINMENT

71 WGT TUTORIALS & 32 YOUNG46 TUTORIALS
CLICK HERE
TO SEE OVER 100 YOUTUBE VIDEO TUTORIALS . FROM WGTers , WGT & YOUNG46
FORUM UPDATE
TO THE MANY WELCOME GUESTS . THIS FORUM IS NO LONGER A COUNTRY CLUB WEBSITE FOR A WGT COUNTRY CLUB . PLEASE FEEL FREE TO READ THE FORUMS.

THERE ARE MANY TOPICS OF INTEREST . OR NOT . THIS WEBSITE IS AN INFORMATION AND ENTERTAINMENT WEBSITE ONLY .

MUCH OF THE CONTENT IS ARCHIVES OF PURPOSES PAST .

THERE ARE SOME MORE CURRENT TOPICS .
REGISTRATION IS NOT NECESSARY TO READ THROUGHOUT .

REGISTRATION IS EASY AND FREE . THIS IS AN AD FREE WEBSITE . NOTHING IS EVER REQUESTED FROM REGISTERED MEMBERS .
REGISTRATION ENABLES COMMENTING ON TOPICS . POSTING NEW TOPICS . FULL ACCESS TO THE WEBSITE IMAGE HOST . WHICH IS A VERY COMPLETE AND CONVENIENT TOOL .

PLEASE ENJOY .

ALL NEW
TIER & AVERAGE REQUIREMENTS
BASIC LEVEL AND AVERAGE REQUIREMENTS , AND SATURATION
WHILE YOUR HERE
WHILE YOUR HERE :
CHECK OUT THE INCREDIBLE PHOTOGRAPHY IN

MY SERIES

&

& MORE . ALL IN THE FORUM
THIS USED TO BE THE HOME OF OUR WORLD CLOCK . WHICH CAN NOW BE FOUND IN ITS OWN FORUM ON THE MAIN PAGE ..
THERE ARE MORE WORLD CLOCKS INSIDE HERE .
International Survivors of Suicide Loss Day
This day is all about showing support and love to the survivors of suicide losses.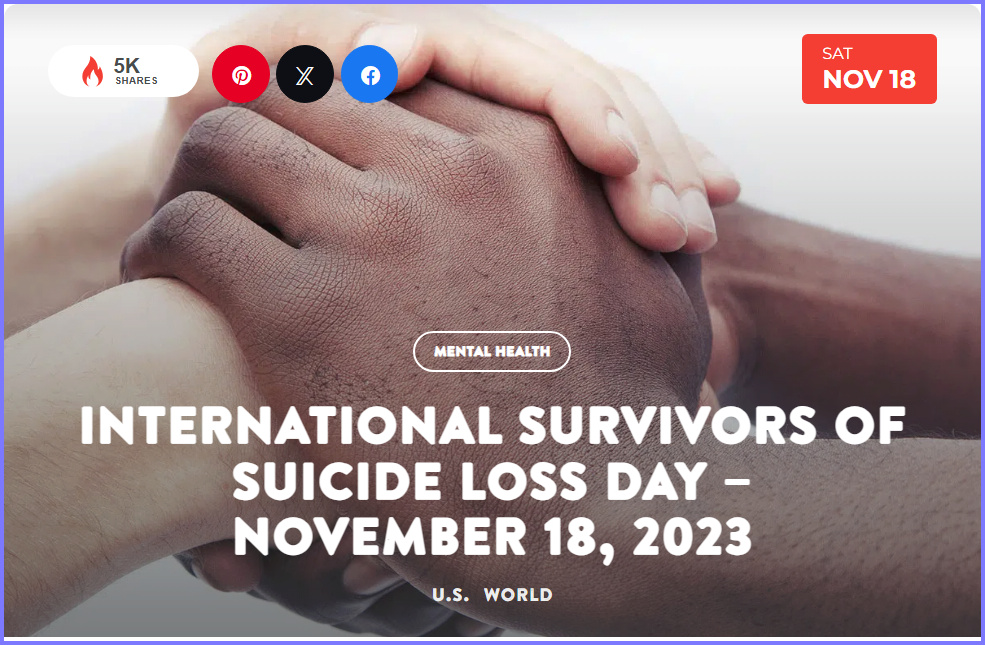 International Survivors of Suicide Loss Day is in November on the Saturday before Thanksgiving (November 18, 2023) and promotes coming together and supporting the survivors of this tragic event. When someone is lost to suicide it impacts those who knew and loved them. For those people, the grief and trauma can be especially difficult to handle. This day is all about showing support and love to the survivors of suicide.
HISTORY OF INTERNATIONAL SURVIVORS OF SUICIDE LOSS DAY
Suicide has been viewed differently over time. It's been both condemned and condoned depending on the location and the religion of the society. Islam, Judaism, and Christianity are against it, while the Brahmans of India tolerate it. In ancient Greece, people who were convicted of crimes were allowed to take their own lives making suicide acceptable on a conditional basis. In Rome, the principles changed near the end of their empire.
Western society used canon law and then criminal law in an attempt to decrease the rate of suicide in the middle ages. The effect it had on society was minimal, however, as suicide rates remained the same. After the French Revolution of 1789, the criminal penalties for attempting suicide were abolished for European countries, but it took England until 1961 to join them.
While the suicide rates for adults in the United States didn't change much from 1950 to 1980, suicide rates among younger people increased significantly. Those most affected were young white males aged 15 to 19 which increased by 305% and from white males aged 20 to 24 it was 196%. Mental health officials had to broaden their understanding and the roles that drug and alcohol, mental illness, suicide clusters, and the availability of firearms affected society.
In 1999, US Senator Harry Reid introduced a resolution that led to the creation of International Survivors of Suicide Loss Day. Reid lost his father to suicide in 1972 and the cause was close to his heart. It was then designated into Congress and placed before Thanksgiving as the holiday season can be a hard time for survivors. Every year, the American Foundation for Suicide Prevention supports Survivors Day events all over the world and the peace that it brings.
gives them relief.
HOW TO OBSERVE INTERNATIONAL SURVIVORS OF SUICIDE LOSS DAY
[list="holiday-list holiday-list-celebrate"][*]
Attend a Survivors Day event

UHS offers Survivors Day events that allow you to find share in the messages of healing and hope. Some of these events screen movies and documentaries about coping with suicide after a shared loss. They depict all of the difficult stages including denial, isolation, grief, and the ways in which you can heal from the pain. If you aren't able to go in person, you can view the program online at www.afsp.org/SurvivorDay.
[*]
Write it out

Art is a great way to express yourself when times get difficult. Grab a journal or use your computer to write down your thoughts. This can be in the form of a poem, a story, or just a journal entry. By expressing yourself, you can come to understand your feelings and where they're coming from. Turning something difficult into something that's true and beautiful can also make you feel like you have more control over it.
[*]
Attend a local grief support group

It can be scary telling your own story to a group of people, but support groups offer safe spaces for you to meet with others who have been affected by suicide. It's a place of understanding as individuals grapple with the hardships of living with it. You'll have the benefit of speaking with and hearing from professionals with the capacity to help you get through your own battle.
[/list]
FIVE FACTS ABOUT INTERNATIONAL SURVIVORS OF SUICIDE DAY
[list=holiday-listicle__list][*]
Global suicides

Close to 800,000 people die due to suicide every year.
[*]
Close to home

Nearly 50% of people in the US know someone who has died by suicide.
[*]
LGBT community

LGBT youth are almost five times more likely to attempt suicide.
[*]
Every 11 minutes

On average, one person dies every 11 minutes by suicide.
[*]
Highest suicide rate

Guyana has the most deaths by suicide.
[/list]
WHY INTERNATIONAL SURVIVORS OF SUICIDE LOSS DAY IS IMPORTANT
[list="holiday-list holiday-list-loveit"][*]
Remembering the victims

Because of the nature of suicide, it can be harder to deal with the death of a loved one. Survivors Day reminds you to remember the good times that you had with them and not just the way in which they died. Holding onto good memories is a positive coping mechanism and allows us to honor them without guilt.
[*]
The survivors need attention

When someone takes their life, it affects everyone within their community. Friends, family, colleagues, and more have to sort through their feelings to understand their own emotions regarding it. On Survivors Day, we take the time to stop and focus on the resources that can help them get through.
[*]
It connects us

Sometimes it's hard to see beyond our own pain and it gives us feelings of isolation and sadness. There's still a high amount of social stigma associated with suicide and it can feel like you can't reach out. On this day, we're reminded that it is a global issue and that none of us are alone.
[/list]
---
Permissions in this forum:
You
cannot
reply to topics in this forum