December 2023
| Mon | Tue | Wed | Thu | Fri | Sat | Sun |
| --- | --- | --- | --- | --- | --- | --- |
| | | | | 1 | 2 | 3 |
| 4 | 5 | 6 | 7 | 8 | 9 | 10 |
| 11 | 12 | 13 | 14 | 15 | 16 | 17 |
| 18 | 19 | 20 | 21 | 22 | 23 | 24 |
| 25 | 26 | 27 | 28 | 29 | 30 | 31 |
Calendar
Statistics
We have
470
registered users
The newest registered user is
tfahqapfgcpemdqbke
Our users have posted a total of
38122
messages in
5600
subjects
THAT'S ENTERTAINMENT
CLICK ON ANY OF THESE LINKS TO FIND OUR EXTREME ENTERTAINMENT

71 WGT TUTORIALS & 32 YOUNG46 TUTORIALS
CLICK HERE
TO SEE OVER 100 YOUTUBE VIDEO TUTORIALS . FROM WGTers , WGT & YOUNG46
FORUM UPDATE
TO THE MANY WELCOME GUESTS . THIS FORUM IS NO LONGER A COUNTRY CLUB WEBSITE FOR A WGT COUNTRY CLUB . PLEASE FEEL FREE TO READ THE FORUMS.

THERE ARE MANY TOPICS OF INTEREST . OR NOT . THIS WEBSITE IS AN INFORMATION AND ENTERTAINMENT WEBSITE ONLY .

MUCH OF THE CONTENT IS ARCHIVES OF PURPOSES PAST .

THERE ARE SOME MORE CURRENT TOPICS .
REGISTRATION IS NOT NECESSARY TO READ THROUGHOUT .

REGISTRATION IS EASY AND FREE . THIS IS AN AD FREE WEBSITE . NOTHING IS EVER REQUESTED FROM REGISTERED MEMBERS .
REGISTRATION ENABLES COMMENTING ON TOPICS . POSTING NEW TOPICS . FULL ACCESS TO THE WEBSITE IMAGE HOST . WHICH IS A VERY COMPLETE AND CONVENIENT TOOL .

PLEASE ENJOY .

ALL NEW
TIER & AVERAGE REQUIREMENTS
BASIC LEVEL AND AVERAGE REQUIREMENTS , AND SATURATION
WHILE YOUR HERE
WHILE YOUR HERE :
CHECK OUT THE INCREDIBLE PHOTOGRAPHY IN

MY SERIES

&

& MORE . ALL IN THE FORUM
THIS USED TO BE THE HOME OF OUR WORLD CLOCK . WHICH CAN NOW BE FOUND IN ITS OWN FORUM ON THE MAIN PAGE ..
THERE ARE MORE WORLD CLOCKS INSIDE HERE .
YARNELL, AZ (3TV/CBS 5) —
In an instant, 19 lives were lost.
On June 30, 2013, a fast-moving wildfire southwest of Prescott continued to grow exponentially. That afternoon, thunderstorm activity caused the winds to shift, pushing the fire much faster and in a different direction. The unexpected shift to the south cut off the Granite Mountain Hotshots' escape route and they were overrun.
Only one member of the 20-man crew survived, having been separated from the team earlier in the day. It was the worst disaster for U.S. firefighters since the Sept. 11, 2001, terrorist attacks. Now 10 years later, their legacy lives on.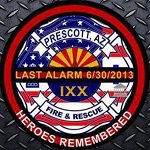 Yarnell Hill Fire
[th]

Yarnell Hill Fire

[/th]
[th]Location[/th]
Yarnell, Yavapai County, Arizona,
U.S.
[th]Coordinates[/th]
34°14′54″N 112°45′29″W
[th]Date(s)[/th]
June 28, 2013 - July 10, 2013
[th]Ignition source[/th]
Lightning
[th]Land use[/th]
Mixed (residential and wildlands)
[th]Buildings destroyed[/th]
129
[th]Injuries (non-fatal)[/th]
23
[th]Fatalities[/th]
19
[ltr]
The 
Yarnell Hill Fire
 was a 
wildfire
 near 
Yarnell
, 
Arizona
, ignited by lightning on June 28, 2013. On June 30, it overran and killed 19 
City of Prescott firefighters
, members of the Granite Mountain 
Hotshots
. The wildfire was fully contained by July 10, 2013.
This event resulted in the highest wildland firefighter death toll in the United States since the 
1933 Griffith Park Fire
 killed 29 firefighters, and the highest death toll from any U.S. wildfire since the 
1991 East Bay Hills fire
 killed 25 people. It is the 
sixth deadliest American firefighter disaster
 overall and the deadliest wildfire ever in Arizona.
[1]
[/ltr]
Origin and Development[edit]
[ltr]
At 5:36 p.m. MST (23:36 UTC) on June 28, 2013, 
lightning
 ignited a wildfire on 
BLM
 lands near
Yarnell, Arizona
, a town of approximately 700 residents about eighty miles northwest of 
Phoenix
.
[2]
[3]
Strong winds in the area, reaching more than 22 mph (35 km/h), pushed the fire on June 30 from 300 acres (120 ha) to over 2,000 acres (810 ha).
[4]
 A long-term 
drought
 affecting the area contributed to the fire's rapid spread and erratic behavior, as did temperatures of 101 °F (38 °C). Emergency dispatchers were prevented from sending in fire crews immediately by BLM personnel.
[5]
By July 1 the fire had grown to over 8,300 acres (3,400 ha). The nearby community of 
Peeples Valley
was evacuated.
[4]
 The fire was still completely uncontrolled, with more than 400 firefighters on the line.
[6]
 On July 2 the fire was estimated at 8 percent containment, but it had not grown in the past 24 hours.
[7]
 By the end of the day on July 3, the fire was reportedly 45 percent contained and not growing; 600 firefighters were assigned. Peeples Valley residents were allowed to return to their homes on July 4
[8]
 and Yarnell residents on July 8.
[9]
 The fire was declared 100 percent contained on July 10.
[10]
The Yavapai County Sheriff's Office said that 127 buildings in Yarnell and two in Peeples Valley had been destroyed.
[11]
 A "flash point" of the fire was the Glen Ilah neighborhood of Yarnell where fewer than half of the structures were burned.
[1]
[/ltr]
Response[edit]
[ltr]
Officials shut down 25 miles (40 km) of 
Arizona State Route 89
 shortly after the fire started
[4]
 and 15 miles (24 km) of State Route 89 remained closed as of June 30.
[12]
 A total evacuation of Yarnell and partial evacuation of 
Peeples Valley
 was ordered.
[4]
 At least 600 people were under mandatory evacuation orders. An evacuation shelter was set up at 
Yavapai College
 in 
Prescott
, with members of the 
Red Cross
 providing 
cots
 and blankets for overnight stays, along with meals and medical assistance.
[12]
 A second evacuation shelter was set up at 
Wickenburg High School
 in nearby 
Wickenburg
 because the closure of State Route 89 made it impossible for some people to reach the first shelter.
[13]
 The Red Cross said that 351 people spent at least one night at one of the shelters.
[1]
A Type 2 
incident management team
 was in charge of the fire late on June 30, with a Type 1 team ordered.
[14]
 Clay Templin's Southwest Area Type 1 IMT assumed management of the fire on July 1.
[15]
Resources on June 30 included 16 
engines
, eight 
water tenders
, two crash-rescue vehicles, two structure protection vehicles, one 
bulldozer
, one 
hotshot crew
 (with another four on order), seven Type 2 
handcrews
, and a camp crew. One very large 
airtanker
 (VLAT) and an air attack unit were also on order.
[2]
 By the morning of July 2 the fire had grown another 800 acres, as mapped by an infrared aircraft flight. The fire was still at zero containment. Resources included five Type 1 hotshot crews, seven Type 2 crews, three Type 1 heavy helicopters, two Type 2 medium 
helicopters
, two Type 3 light helicopters, and 36 engines.
[4]
[16]
[/ltr]
Fatalities[edit]
[th]Granite Mountain Hotshots[/th]
Killed
Andrew Ashcraft, 29

Robert Caldwell, 23

Travis Carter, 31

Dustin Deford, 24

Christopher MacKenzie, 30

Eric Marsh, 43

Grant McKee, 21

Sean Misner, 26

Scott Norris, 28

Wade Parker, 22

John Percin, 24

Anthony Rose, 23

Jesse Steed, 36

Joe Thurston, 32

Travis Turbyfill, 27

William Warneke, 25

Clayton Whitted, 28

Kevin Woyjeck, 21

Garret Zuppiger, 27

Crew member not at deployment site, injured
[ltr]
On June 30, 19 firefighters with the 
Prescott Fire Department
's interagency
[17]
Granite Mountain Hotshots
 were overrun and killed by the fire.
[18]
 Initial reports indicated that one of the firefighters was not a member of the hotshot crew, but Prescott Fire Chief Dan Fraijo later confirmed that all 19 were from the Granite Mountain Hotshots.
[19]
The firefighters had apparently deployed 
fire shelters
, but not all of the bodies were found inside them.
[20]
 The city of Prescott released the names of the 19 firefighters on July 1.
[21]
The lone survivor from the 20-man crew was 21 year-old Brendan McDonough. He had been serving as a lookout when the fire threatened to overtake his position. McDonough was about to deploy his safety shelter when he was rescued by Brian Frisby, the Superintendent of the Blue Ridge Hotshots, who was monitoring the radio communications between McDonough and the Granite Mountain IHC Captain. Frisby and McDonough moved the crew's vehicles to a safer location, which they were doing at the time of Granite Mountain crew entrapment.
[4]
[18]
[22]
 After moving the vehicles, Frisby and other members of the Blue Ridge Hotshots attempted to rescue the entrapped Granite Mountain Hotshots but were forced back by the intense flames and heat of the fire. Driving through the streets of Yarnell, the Blue Ridge Hotshots evacuated several residents who had failed to evacuate earlier. Frisby and his assistant eventually made their way to the entrapment site and were some of the first individuals to find the deployment site and the remains of the Granite Mountain crew.
[4]
[16]
[17]
[18]
 According to the 
National Fire Protection Association
, it was the greatest loss of life for firefighters in a wildfire since 1933, the deadliest wildfire of any kind since 1991, and the greatest loss of firefighters in the United States since the 
September 11 attacks
.
[23]
[/ltr]
Reactions[edit]
[ltr]
On June 30, 
Arizona Governor
Jan Brewer
 issued a statement offering her condolences. "This is as dark a day as I can remember," she said.
[24]
 She ordered flags flown at 
half-staff
 in Arizona through July 19.
[25]
President
Barack Obama
 issued a statement on July 1, promising federal help and praising the 19 firefighters as heroes.
[26]
Federal Emergency Management Agency
 spokesman Craig Fugate and United States Fire Administrator Ernest Mitchell issued similar statements on July 1.
[27]
 On July 2, members of the
Arizona Cardinals
 visited one of the Red Cross shelters and the team president donated $100,000 to the 100 Club of Arizona, an organization that assists firefighters, police, and their families in crises.
[28]
 Authorities said that $800,000 had been raised for the families of the victims as of July 4.
[29]
On July 2, more than 3,000 people attended a public memorial service at an indoor stadium in Prescott.
[30]
 Vice President 
Joseph Biden
, Arizona Governor 
Jan Brewer
, and the team's lone surviving firefighter, Brendan McDonough, spoke at a memorial in Prescott on Tuesday, July 9, 2013.
[31]
 That memorial was attended by thousands, including representatives from over 100 hotshot crews across the country, and was streamed live by several media outlets.
[32]
 Individual memorial services were scheduled for later in the hometowns of the 19 firefighters.
A flagpole has been placed at the deployment site where the 19 firefighters died; the site is not accessible to the public but can be seen from an overlook, adjacent to Highway 89 in Yarnell, which has been named the Granite Mountain Hotshots Memorial Overlook. A second memorial has been placed at the intersection of State Route 89 and Hays Ranch Road in Peeples Valley.
[33]
A nine-member investigative team of forest managers and safety experts arrived in Arizona on July 2; their mission is to "understand what happened as completely as possible" to prevent similar incidents.
[30]
The 
Arizona Diamondbacks
 of 
Major League Baseball
 began wearing a black patch with the number "19" on it in memory of the firefighters.[/ltr]
Aftermath[edit]
[ltr]
After the fire, the 
Federal Emergency Management Agency
 ruled that the fire does not qualify for disaster aid to homeowners because most of the homes that were burned had insurance. Under federal law, federal disaster relief is not available if there is insurance, and FEMA said "damage to uninsured private residences from this event was not beyond the response and recovery capabilities of the state (and) local governments and voluntary agencies." Brewer appealed to Obama to overturn the decision.
[34]
Following a three-month investigation, the state's Forestry Division released a report on September 28, 2013 which found no evidence of negligence or recklessness in the deaths of the 19 firefighters, and revealed that an 
airtanker
 carrying 
flame retardant
 was directly overhead as the firefighters died. The investigation did find some problems with radio communications due to heavy radio traffic and the fact that some radios were not programmed with appropriate 
tone guards
.
[35]
[36]
However, on December 4, 2013, the Industrial Commission of Arizona, which oversees workplace safety, blamed the state's Forestry Division for the deaths of the 19 firefighters, based on an investigation by the state's Division of Occupational Safety and Health. The Commission said that state fire officials knowingly put protection of property ahead of safety and should have pulled crews out earlier. The commission levied a $559,000 fine.
[37]
[38]
[/ltr]
Last edited by Paul on Fri 30 Jun 2023, 7:12 am; edited 1 time in total
Glad to see the hotshots post,  I lived in Prescott from 2012 until 2014,,beautiful place

armchairalien




Posts

: 1


Join date

: 2016-01-13



I spent a good many years there . My mother still lives there . A beautiful place it is at that . 
  A tragic disaster that Yarnell Hill Fire was . They will always be remembered .
An immeasurable loss
After contact with the Granite Mountain Hotshots was lost, a search by air began. At 6:35 p.m., medics in a DPS helicopter confirmed that all 19 men had died:
Andrew Ashcraft, 29

Robert Caldwell, 23

Travis Carter, 31

Dustin DeFord, 24

Christopher MacKenzie, 30

Eric Marsh, 43

Grant McKee, 21

Sean Misner, 26

Scott Norris, 28

Wade Parker, 22

John Percin, Jr., 24

Anthony Rose, 23

Jesse Steed, 36

Joe Thurston, 32

Travis Turbyfill, 27

William Warneke, 25

Clayton Whitted, 28

Kevin Woyjeck, 21

Garret Zuppiger, 27

The lone survivor of the crew is Brenden McDonough, who was separated from the group earlier in the day to act as a fire lookout.
Read more about each hotshot here
.
Similar topics
---
Permissions in this forum:
You
cannot
reply to topics in this forum