THAT'S ENTERTAINMENT
CLICK ON ANY OF THESE LINKS TO FIND OUR EXTREME ENTERTAINMENT
Statistics
We have
400
registered users
The newest registered user is
don121
Our users have posted a total of
10775
messages in
2770
subjects
December 2021
| Mon | Tue | Wed | Thu | Fri | Sat | Sun |
| --- | --- | --- | --- | --- | --- | --- |
| | | 1 | 2 | 3 | 4 | 5 |
| 6 | 7 | 8 | 9 | 10 | 11 | 12 |
| 13 | 14 | 15 | 16 | 17 | 18 | 19 |
| 20 | 21 | 22 | 23 | 24 | 25 | 26 |
| 27 | 28 | 29 | 30 | 31 | | |
Calendar
71 WGT TUTORIALS & 32 YOUNG46 TUTORIALS
CLICK HERE
TO SEE OVER 100 YOUTUBE VIDEO TUTORIALS . FROM WGTers , WGT & YOUNG46
FORUM UPDATE
THIS FORUM IS FOR YOU ALL . PLEASE FEEL LIKE IT IS YOURS . READ THE FORUMS. POST COMMENTS . ASK QUESTIONS . IF YOU HAVE A COMPLAINT POST IT . MAKE SUGGESTIONS . READ SOME TUTORIALS . READ SOME GOLF TIPS . CHECK RECENT TOURNEY WINNERS . BROWSE OUR OLD FORUM ARCHIVES . LOG IN TO THE CHAT AND MESSAGE SOMEONE TO MEET YOU THERE AND ARRANGE A MATCH . LOG IN TO THE CHAT TO SEE IF SOMEONE IS THERE JUST TO SAY HI . MESSAGE ME IF YOU WANT TO GET ON THE DAILY BLITZ .
THE BLITZ SCORECARD IS ON
Page 3
PLEASE CLICK
HERE
TO FIND THE COURSE OF THE DAY AND SEE
THE WEEKLY STANDINGS .
PLEASE POST
YOUR SCORES HERE. IN THIS
KWIK KLIK TO YOUR FAV FORUM
Owner's Objectives
It's been a while since I expressed some of my objectives for the CC . First of all I like and respect everyone that joins our club . I realize that not everyone knows what a CC is all about . Many have different reasons for joining . I really don't know how many of the other clubs are run . They are all different . What I want to emphasize in our CC is that whatever tier you are . That you feel comfortable here , part of a team of players that come here to find conditions that enable them to improve their game , hone their skills , lower their scores ,lower their averages , move up in tiers . Enjoyably and comfortably with the conditions that challenge them enough to keep that drive without the frustrationsof regular game play . All that is completely possible by either creating those tourneys yourself or by messaging me about it . Or someone else in your tier that has been creating tourneys . Any kind of information that you need to know should be provided here , any kind of appp , calculator , help , tutorial , tournament , statistic , message , opinion , gripe , compliment , etc , etc . Should able to be aqcuired here ( or in our website , as it may be easier there ). With your help , all of this can be done easily . We already have a good start . I am going to be here for a very long time trying to achieve all this . For any of you that think it's a good direction for your CC to go in . Then lets keep on keepin on . Sincerely , Your Co team member PDB1 , Paul ( sitting here on a rare rainy day ) May the SUN always be with you
POST OF THE WEEK
Re:
Where are the Flags ?By Bertasion in Valley of the Sun Casual Club The other day upon the heather fair I hit a flagstick that was not there. I saw it's shadow and heard the clank but where it stood was just a blank. It was not there again today. I wonder when it will come back and stay. Brian
BLITZ LIST
HERE IS THE LIST OF BLITZ COURSES IN THE ORDER THEY ARE PLAYED EVERY WEEK OF EVERY SEASON .
DAILY BLITZ WEEKLY SCHEDULE



WEEK 1

BEST OF BANDON PAR 3
PEBBLE BEACH
THE OLYMPIC CLUB
VAHALLA
MERION


WEEK 2

PINEHURST NO.2
HARBOUR TOWN
KIAWAH ISLAND
ROYAL ST. GEORGE
CONGRESSIONAL


WEEK 3

ERIN HILLS
ST. ANDREWS
BALI HAI
CELTIC MANOR
BETHPAGE BLACK


WEEK 4

PINEHURST NO. 8
WOLF CREEK
CHALLANGE AT MANELE
EXPERIENCE AT KOELE
HILVERSUMSCHE


WEEK 5

EDGEWOOD TAHOE
BEST OF WATER SHOTS
BEST OF FAMOUS SHOTS
BEST OF PUTTING
CHAMBERS BAY
TIER & AVERAGE REQUIREMENTS
BASIC LEVEL AND AVERAGE REQUIREMENTS , AND SATURATION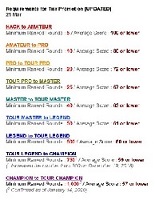 Setting Up Tournaments
The country club is allowed only 20 free tournaments at a time.  Club members may set up 1 to 3 free tournaments each if they desire.  The club director  ( skip6026 ) of tournaments may set up several tournaments at his discretion to keep the tournament schedule full.
If you wish to set up a free tournament restricted to certain tiers, please include all tiers using the same tee boxes and all lower tiers. That means the following are the allowable tiers to use in any restricted free tournaments:
Hacks & Amateurs
Pros & Tour Pros and ALL TIERS BELOW
Masters and Tour Masters and ALL TIERS BELOW
All other free tournaments should include ALL TIERS.
No free tournament should be set up for Legends without including Tour Legends as they use the same tees.  Yes we have good players as Tour Legends but we also have good players as Legend.   
Members may also set up tournaments with an entry free.  Please limit the entry fee to 5 or 10 credits.  No one is going to get rich playing club tournaments and keeping the fees low won't discourage members from entering.
 
For tournaments with an entry fee you may restrict the entry to any specific tier or tiers that you choose.  In other words, if a member wants to set up a tournament for Tour Pros only, that is allowed a long as it's an entry fee tournament for 5 or 10 credits. 
XP information for club members
20 Jan

 What Every Member Needs to Know About Club XPs




I want to begin this message by saying "thank you" to all the dedicated members of the Old Duffers Retreat who help this club everyday with their commitment to maintaining their status on continuous days played (CDPs)….. and who carefully use their club pass in the first game they play each day, thereby providing the club with 1000 points or more EVERYDAY!!!  Thank you – thank you – thank you.

To those who go even further and purchase club passes on their own to add to their daily contribution – your generosity is greatly appreciated – and certainly has made a difference in our "Leveling-Up" as a club, thereby earning many benefits accruing to ALL members. Thanks go to you patrons as well!!!

That said – we cannot, and should not have to trace the club's advancement to the basic commitment of some, coupled with the selfless patronage of a few. Stated more plainly…. and more bluntly, of the nearly 23 million Club XPs that have been earned by the Old Duffers Retreat…………… fully one-half of them have been earned for the club by only 60 members! Repeating……… 11.5 million XPs have been earned for our 250 member club by only 60 members.

We can't expect to continue our run of success on the backs of these players……….. not when it is SO EASY to be a member who is part of the team – helping to carry the load. We have a GREAT club, and my assumption is that everyone who is in the club is here because they want to be a part of this organization – they enjoy the benefits that come with membership, and they would be very willing to do what little is asked of them to continue to be part of this group. I further assume, from questions, comments and feedback I have received, that many members still do not understand how the Club XP system works, what it means to the club, and how easy it is to pull their weight by doing what little is asked. I hope the following will shed light where needed.

What are Club Levels in WGT?


WGT recognizes that there are benefits to both the individual player as well as WGT itself from active participation in Country Clubs. To encourage that participation, they have created a recognition and reward system based upon points earned for the club by its members. Free club passes are provided to all club members twice each day. When used while playing in a game, any experience points (XPs) earned by the player will go to both the player AND to his/her club. As a club accumulates points it will move from Level 1 on up, based upon the total points accumulated. As of this writing, the highest Club Level that has been attained is 15 (The Peoples Club). The Old Duffers Retreat has the distinction of being the second highest ranking club at Level 14.


Why are Club Levels important?


As a club advances in levels, it earns benefits for the club and for its members. Benefits range from the number of members a club may have, to the number of club tournaments that may be played at any one time. Members are provided free Putter Pal & Shot Pal, XP bonuses and free Super Passes. Clubs also earn the ability to add additional Directors to assist in the many management duties that come with running a large, successful club.

How do I get a club pass?


WGT gives you 2 FREE club passes each day. Additionally, extra club passes my be purchased for 37 credits each. For nearly every member of the club there is no excuse to say "I can't afford to buy a pass". Your club does not ask you to spend a dime to purchase a pass. You are only asked to use your pass to maximize the benefit to the club.

If I use a club pass, do I lose the XPs I earn that game….. I am trying to level-up?


No – No – No!  Using a club pass only causes WGT to match the XPs you earn and credit the same number to your club. You get your XPs – and your club is also credited with the same number.

How can I maximize the number of XPs that I will earn for myself……. and for the club if I use a pass?


The most important thing you can do – if at all possible, is to PLAY EVERYDAY! Even if it is only a 3-hole practice round, or a single-player Blitz. If you can string together 6 consecutive days of play (CDP), you will receive 880 points added to whatever points you earn for the game you are playing. In this way, if you use your FREE club pass for the FIRST GAME of a new WGT day, you will easily earn from 1100 to 1400 points for yourself, and your club……. EACH DAY!! As you can see, in only one month you can accumulate more than 30,000 points, by playing only ONE FREE PASS – one time a day! This is a terrible statistic………… a full one-third of our Old Duffers membership have not even accumulated the equivalent of one month's free activity!


What if I can't play everyday?

Not everyone can……….. but most can find a way to get on-line long enough to play a practice hole, or shoot a Blitz, using a Wi-Fi at Starbucks, or the library near your mother-in-law's house.  The point is – for most of us, we CAN find a way to keep those CDP bonus points rolling in. If life throws a curve, you miss the day, accept the lower points and quickly run your 6 day streak back up – and you are quickly back riding the 880 point "Bonus Train". If you want to help your club, and yourself badly enough, most problems can be overcome. Important personal issues will always take priority – that is a given. Life happens – and everyone accepts that.

What if I am using a device that does not allow me access to CDP points?


This is an issue that you will discuss with the Club owner,  He will listen to your situation and determine the best course of action in your specific situation. Be forthright as to how you intend to benefit yourself and the club with your membership.

What is an important "first step" for me in becoming an active contributor for my club?


You need to know EXACTLY when your WGT day begins. 

What is a final thought you can share with us?

Chew this one over…………. If only 200 of our 250 members each played a simple 9 hole round using their free pass, coupled with their CDP bonus points……… in just 30 days they would accumulate a minimum of 7 million points in just that one month – kicking the Old Duffers Retreat into the #1 club in all of WGT! With that very achievable goal reached, we could easily double the Club's XP count in less than 90 days!

We can do so much better………. And no one is being asked to spend a dime!

Will you help your club?
It is so coincidental & uncanny the similarities in both his and my messages . I have never  seen this before today . Nor have I ever read another CC's guidelines more than a glimpse .
---
Permissions in this forum:
You
cannot
reply to topics in this forum