THAT'S ENTERTAINMENT
CLICK ON ANY OF THESE LINKS TO FIND OUR EXTREME ENTERTAINMENT
Statistics
We have
389
registered users
The newest registered user is
apkguru
Our users have posted a total of
10634
messages in
2745
subjects
September 2021
| Mon | Tue | Wed | Thu | Fri | Sat | Sun |
| --- | --- | --- | --- | --- | --- | --- |
| | | 1 | 2 | 3 | 4 | 5 |
| 6 | 7 | 8 | 9 | 10 | 11 | 12 |
| 13 | 14 | 15 | 16 | 17 | 18 | 19 |
| 20 | 21 | 22 | 23 | 24 | 25 | 26 |
| 27 | 28 | 29 | 30 | | | |
Calendar
71 WGT TUTORIALS & 32 YOUNG46 TUTORIALS
CLICK HERE
TO SEE OVER 100 YOUTUBE VIDEO TUTORIALS . FROM WGTers , WGT & YOUNG46
FORUM UPDATE
THIS FORUM IS FOR YOU ALL . PLEASE FEEL LIKE IT IS YOURS . READ THE FORUMS. POST COMMENTS . ASK QUESTIONS . IF YOU HAVE A COMPLAINT POST IT . MAKE SUGGESTIONS . READ SOME TUTORIALS . READ SOME GOLF TIPS . CHECK RECENT TOURNEY WINNERS . BROWSE OUR OLD FORUM ARCHIVES . LOG IN TO THE CHAT AND MESSAGE SOMEONE TO MEET YOU THERE AND ARRANGE A MATCH . LOG IN TO THE CHAT TO SEE IF SOMEONE IS THERE JUST TO SAY HI . MESSAGE ME IF YOU WANT TO GET ON THE DAILY BLITZ .
THE BLITZ SCORECARD IS ON
Page 3
PLEASE CLICK
HERE
TO FIND THE COURSE OF THE DAY AND SEE
THE WEEKLY STANDINGS .
PLEASE POST
YOUR SCORES HERE. IN THIS
KWIK KLIK TO YOUR FAV FORUM
Owner's Objectives
It's been a while since I expressed some of my objectives for the CC . First of all I like and respect everyone that joins our club . I realize that not everyone knows what a CC is all about . Many have different reasons for joining . I really don't know how many of the other clubs are run . They are all different . What I want to emphasize in our CC is that whatever tier you are . That you feel comfortable here , part of a team of players that come here to find conditions that enable them to improve their game , hone their skills , lower their scores ,lower their averages , move up in tiers . Enjoyably and comfortably with the conditions that challenge them enough to keep that drive without the frustrationsof regular game play . All that is completely possible by either creating those tourneys yourself or by messaging me about it . Or someone else in your tier that has been creating tourneys . Any kind of information that you need to know should be provided here , any kind of appp , calculator , help , tutorial , tournament , statistic , message , opinion , gripe , compliment , etc , etc . Should able to be aqcuired here ( or in our website , as it may be easier there ). With your help , all of this can be done easily . We already have a good start . I am going to be here for a very long time trying to achieve all this . For any of you that think it's a good direction for your CC to go in . Then lets keep on keepin on . Sincerely , Your Co team member PDB1 , Paul ( sitting here on a rare rainy day ) May the SUN always be with you
POST OF THE WEEK
Re:
Where are the Flags ?By Bertasion in Valley of the Sun Casual Club The other day upon the heather fair I hit a flagstick that was not there. I saw it's shadow and heard the clank but where it stood was just a blank. It was not there again today. I wonder when it will come back and stay. Brian
BLITZ LIST
HERE IS THE LIST OF BLITZ COURSES IN THE ORDER THEY ARE PLAYED EVERY WEEK OF EVERY SEASON .
DAILY BLITZ WEEKLY SCHEDULE



WEEK 1

BEST OF BANDON PAR 3
PEBBLE BEACH
THE OLYMPIC CLUB
VAHALLA
MERION


WEEK 2

PINEHURST NO.2
HARBOUR TOWN
KIAWAH ISLAND
ROYAL ST. GEORGE
CONGRESSIONAL


WEEK 3

ERIN HILLS
ST. ANDREWS
BALI HAI
CELTIC MANOR
BETHPAGE BLACK


WEEK 4

PINEHURST NO. 8
WOLF CREEK
CHALLANGE AT MANELE
EXPERIENCE AT KOELE
HILVERSUMSCHE


WEEK 5

EDGEWOOD TAHOE
BEST OF WATER SHOTS
BEST OF FAMOUS SHOTS
BEST OF PUTTING
CHAMBERS BAY
TIER & AVERAGE REQUIREMENTS
BASIC LEVEL AND AVERAGE REQUIREMENTS , AND SATURATION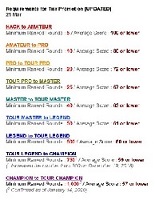 Main article: Buchholz system
The Median system is also known as the Harkness System, after its inventor Kenneth Harkness. For each player, this system sums the number of points earned by the player's opponents, but discarding the highest and lowest. If there are nine or more rounds, the top two and bottom two scores are discarded. Unplayed games by the opponents count ½ point. Unplayed games by the player count zero points. This is also known as theMedian-Buchholz System (Just & Burg 2003:199–200).
Modified Median[edit]
The Modified Median system is similar to the Median system, except:


Players with exactly 50% score are handled as in the regular Median system


Players with more than 50% score have only their lowest-scoring opponent's score discarded


Players with less than 50% score have only their highest-scoring opponent's score discarded (Just & Burg 2003:199–200).


Solkoff[edit]
This system is the same as the Median system, except that no scores are discarded (Just & Burg 2003:200). Ephraim Solkoff did not invent this system. He introduced it to the United States in 1950, but it was used in England prior to that (Harkness 1967:138).
Cumulative[edit]
To calculate this, sum the running score for each round. For example, if a player has (in order) a win, loss, win, draw, and a loss; his round-by-round score will be 1, 1, 2, 2½, 2½. The sum of these numbers is 9. This system places more weight on games won in the early rounds and the least weight on games won in the final rounds. The rationale for this system is that a player who scored well early in the tournament has most likely faced tougher opponents in later rounds and should therefore be favored over a player who scored poorly in the start before subsequently scoring points against weaker opponents (Just & Burg 2003:200–201).
Cumulative opponent's score[edit]
This sums the cumulative scores of the player's opponents (Just & Burg 2003:202).
Result between tied players[edit]
If the tied players played each other, if one of them won then he finishes higher on tie-break (Just & Burg 2003:201).
Most games with the black pieces[edit]
The player that had the black pieces the most times finishes highest on tie-breaks (Just & Burg 2003:201).
Most wins (Baumbach)[edit]
The player with the most wins finishes highest on tie-breaks. This is used as the first tie-break rule for individual tournaments in ICCF.
Kashdan[edit]
Invented by Isaac Kashdan, this system awards four points for a win, two points for a draw, one point for a loss, and none for an unplayed game. As a result, if players with no unplayed games tie, the one with fewer draws finishes higher on the tie-break (i.e. a win and a loss is better than two draws) (Just & Burg 2003:201).
Sonneborn-Berger score[edit]
Main article: Sonneborn-Berger score
Add the scores of every opponent the player beats and half of the score of every opponent the player draws (Just & Burg 2003:201). The system was named after William Sonneborn and Johann Berger, but it was invented by Oscar Gelbfuhs (Harkness 1967:137). The system is the main tie-breaking system in round robin tournaments, but is also used in Swiss tournaments. It is also called the Neustadtl score.
What we call the Sonneborn-Berger system was not invented by Sonneborn or Berger, and it was not originally designed for tie-breaking. It was invented by Oscar Gelbfuhs about 1873 to be used as a weighted score in round-robin tournaments. It would be used instead of the raw score for final places. In 1886 Sonneborn criticized the system and suggested an improvement that would give a better weighted score. His suggestion was to add the square of the player's points to the amount calculated as above. In 1887 and 1888 Berger studied Gelbfuhs' system and the suggestion of Sonneborn. This improvement became known as the Sonneborn-Berger system.[citation needed]
When the system is used to break ties between equally scoring players, adding in the square of the player's raw score does no good, so the Sonneborn improvement is omitted. However, the system has retained the Sonneborn-Berger name (Harkness 1967:136–37).
Opponent's performance[edit]
This method uses the average performance rating of the player's opponents. The "performance rating" of a player is basically the rating he would receive if he had started the tournament without a rating (Just & Burg 2003:202).
Average rating of opposition[edit]
The average rating of the player's opponents (Just & Burg 2003:202).
Time of loss[edit]
Among tied players, the player whose first loss came last gets priority. If player A's first loss was in round 4 and player B's first loss was in round 2, player A gets priority. This was a tiebreaker used by POP in 2004-2005.
Tardiness[edit]
If a player arrives after the first round is paired, the player loses priority. This tiebreaker is currently used by POP.
Speed play-off games[edit]
The tie is broken by one or more games played with fast time control, or Fast chess.
Single fast game[edit]
FIDE rules provide for a single fast decisive game. Black gets five minutes on the clock whereas White gets six minutes but must win (i.e. a draw counts as a win for Black). The player who wins the draw of lots may choose which color he wants.
Coin flip[edit]
As a last resort, ties are broken by a random process such as a coin flip (Just & Burg 2003:203).
Golf scoring terms
Albatross: Three shots less than par
Eagle: Two shots less
Birdie: One shot less
Bogey: One shot more
Double bogey: Two shots more
Triple bogey: Three shots more Contd....



STABLEFORD

In this type of competition points are awarded depending on the score for each hole.

It was designed to speed up play - as soon as a player can no longer score a point he can pick up his ball.

A player scores one point for a bogey, two for par, three for a birdie, four for an eagle and five for an albatross.

You win a competition by scoring the most points overall.


Normal stableford system
Albatross: Five points
Eagle: Four points
Birdie: Three points
Par: Two points
Bogey: One point
On an amateur level, if a player takes six shots on a par-four hole but is entitled to a shot because of his handicap, his net score is five.


What is a handicap?
That would be a bogey which entitles him to one point.

The points can be modified - for instance so the rewards for scores below par are higher.

MATCHPLAY

in this system of scoring, each hole is played as a mini match.

The player with the lowest net score for the hole is said to win the hole, the par of each hole doesn't matter.

Matchplay terms
Up: A player is ahead in the match
Down: A player is behind in the match
All square: Players have the same score
Halved: Players half the hole when they take the same number of shots
Dormie: E.g. A player is two holes up with two to play
3&2: E.g. A player is three holes up with two holes to play
---
Permissions in this forum:
You
cannot
reply to topics in this forum