THAT'S ENTERTAINMENT
CLICK ON ANY OF THESE LINKS TO FIND OUR EXTREME ENTERTAINMENT
Statistics
We have
400
registered users
The newest registered user is
don121
Our users have posted a total of
10775
messages in
2770
subjects
December 2021
| Mon | Tue | Wed | Thu | Fri | Sat | Sun |
| --- | --- | --- | --- | --- | --- | --- |
| | | 1 | 2 | 3 | 4 | 5 |
| 6 | 7 | 8 | 9 | 10 | 11 | 12 |
| 13 | 14 | 15 | 16 | 17 | 18 | 19 |
| 20 | 21 | 22 | 23 | 24 | 25 | 26 |
| 27 | 28 | 29 | 30 | 31 | | |
Calendar
71 WGT TUTORIALS & 32 YOUNG46 TUTORIALS
CLICK HERE
TO SEE OVER 100 YOUTUBE VIDEO TUTORIALS . FROM WGTers , WGT & YOUNG46
FORUM UPDATE
THIS FORUM IS FOR YOU ALL . PLEASE FEEL LIKE IT IS YOURS . READ THE FORUMS. POST COMMENTS . ASK QUESTIONS . IF YOU HAVE A COMPLAINT POST IT . MAKE SUGGESTIONS . READ SOME TUTORIALS . READ SOME GOLF TIPS . CHECK RECENT TOURNEY WINNERS . BROWSE OUR OLD FORUM ARCHIVES . LOG IN TO THE CHAT AND MESSAGE SOMEONE TO MEET YOU THERE AND ARRANGE A MATCH . LOG IN TO THE CHAT TO SEE IF SOMEONE IS THERE JUST TO SAY HI . MESSAGE ME IF YOU WANT TO GET ON THE DAILY BLITZ .
THE BLITZ SCORECARD IS ON
Page 3
PLEASE CLICK
HERE
TO FIND THE COURSE OF THE DAY AND SEE
THE WEEKLY STANDINGS .
PLEASE POST
YOUR SCORES HERE. IN THIS
KWIK KLIK TO YOUR FAV FORUM
Owner's Objectives
It's been a while since I expressed some of my objectives for the CC . First of all I like and respect everyone that joins our club . I realize that not everyone knows what a CC is all about . Many have different reasons for joining . I really don't know how many of the other clubs are run . They are all different . What I want to emphasize in our CC is that whatever tier you are . That you feel comfortable here , part of a team of players that come here to find conditions that enable them to improve their game , hone their skills , lower their scores ,lower their averages , move up in tiers . Enjoyably and comfortably with the conditions that challenge them enough to keep that drive without the frustrationsof regular game play . All that is completely possible by either creating those tourneys yourself or by messaging me about it . Or someone else in your tier that has been creating tourneys . Any kind of information that you need to know should be provided here , any kind of appp , calculator , help , tutorial , tournament , statistic , message , opinion , gripe , compliment , etc , etc . Should able to be aqcuired here ( or in our website , as it may be easier there ). With your help , all of this can be done easily . We already have a good start . I am going to be here for a very long time trying to achieve all this . For any of you that think it's a good direction for your CC to go in . Then lets keep on keepin on . Sincerely , Your Co team member PDB1 , Paul ( sitting here on a rare rainy day ) May the SUN always be with you
POST OF THE WEEK
Re:
Where are the Flags ?By Bertasion in Valley of the Sun Casual Club The other day upon the heather fair I hit a flagstick that was not there. I saw it's shadow and heard the clank but where it stood was just a blank. It was not there again today. I wonder when it will come back and stay. Brian
BLITZ LIST
HERE IS THE LIST OF BLITZ COURSES IN THE ORDER THEY ARE PLAYED EVERY WEEK OF EVERY SEASON .
DAILY BLITZ WEEKLY SCHEDULE



WEEK 1

BEST OF BANDON PAR 3
PEBBLE BEACH
THE OLYMPIC CLUB
VAHALLA
MERION


WEEK 2

PINEHURST NO.2
HARBOUR TOWN
KIAWAH ISLAND
ROYAL ST. GEORGE
CONGRESSIONAL


WEEK 3

ERIN HILLS
ST. ANDREWS
BALI HAI
CELTIC MANOR
BETHPAGE BLACK


WEEK 4

PINEHURST NO. 8
WOLF CREEK
CHALLANGE AT MANELE
EXPERIENCE AT KOELE
HILVERSUMSCHE


WEEK 5

EDGEWOOD TAHOE
BEST OF WATER SHOTS
BEST OF FAMOUS SHOTS
BEST OF PUTTING
CHAMBERS BAY
TIER & AVERAGE REQUIREMENTS
BASIC LEVEL AND AVERAGE REQUIREMENTS , AND SATURATION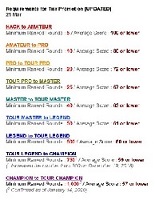 VOTSCC CC GUIDELINES 
  OUTLINING THE PROCEDURES AND PROTOCOLS TO BE FOLLOWED BY ALL MEMBERS OF VOTSCC . 
  TO BE AGREED TO PERSONALLY BY ALL MEMBERS WHO WISH TO BE PART OF THIS VOTSCC COMMUNITY 
These conditions are not new but simply spelled out in detail for the benefit and knowledge of all members   . All very easy requirements to join this CC :
  Welcoming . When you first join VOTSCC . There will be a Welcome post on your profile wall . The 5 conditions below must be tended to to complete your registration . 
  There will also be a " Welcome New Recruit With Your Name " in the CC forum . Please respond to it when you see it . As it serves as your introduction to the forum and to the other members . The other members are also expected to respond to this welcome . Yes that's right .
  Just a side note here . a CC forum post must be made to activate your email notifications . Your WGT account settings must also be set to accept these 3 functions at the very least

  Once you start playing CC tourneys you will receive a " Participation Appreciation Award " .  Once you have registered in the website . You will receive a " CLUB LOGO " which is optional and your decision to use it or not .
  By the time it takes for these to happen you will already have started friending members .
  Therefore completing your registration .
  There will then be a post in the forum " Your Name Is Now A Full Member " Please respond to it when you see it . The other members are expected to respond to this also . Yes that's right . 
  THESE ARE THE 5 REQUIRED CONDITIONS TO BE MET AND AGREED UPON AND COMPLETED TO BECOME A MEMBER OF VOTSCC .
1) Participate in CC tourneys . There are no minimums . You know if you are playing . Each member is also responsible for utilizing their free CC passes efficiently and effectively  to fit their own schedules .
2) Communicate with owner just enough to know you are human . That would be me . Separate from any forum posts . At some point and occasionally thereafter , we must have a rapport .
3) Register in our website / forum . Please use your WGT username . This is a one time deal and is neccessary for my recording of members stats , records , scores , etc . Nothing else will be asked from you in the website after you register . You may or may not utilize it's cool stuff as you wish .
4) Friending all other CC members at your convenience is also part of the communication needed in VOTSCC . 50 members is an easy , as you have time task , there are many reasons for this . Not the least of which is the Tournament Directors need to be able to PM all members when neccessary . Other reasons are that at any time all members need to be available for no less than communication with each member . We are all a team no one is excluded . Many of us like to play multi player stroke and alt shot with all CC members . Maybe once or twice a week at the most .   
 5) Keeping current in the WGT CC Forum by reading the posts regularly . A periodic response will be necessary as it shows respect an accountability to the rest of the members and to the Directors and tourney makers that provide this to us .   Members agree to keep current on the play times of tournaments , & any important messages by myself or any director or member that has been posted in the forum . Each posting should also be in every ones email and members can use the email to read and keep current . If a response is requested . The response must be posted in the CC forum .
  Regarding the sign up of single round Tournaments such as the Brackets . Members must agree that if they are interested in playing the single play ( round ) format . They will be responsible for showing up and playing in full and completing every round in the bracket . Unplayed rounds and unfinished rounds are not excusable ( there are exceptions of course if valid and serious ) . We are all responsible CC members and game players and formats of this nature require a commited and higher level of sporting seriousness .   
Although we do recognize and award  of ones points contributions , along with other things . We do not believe in the XP race . And do not require it in the CC . That is completely a decision made by individual members . 
  The reasons for this are many . First of all WGT does not reward individuals for their point accumulation in any way . Beyond leveling up for equipment . There are only a couple CC rewards and they are very minimal .
  It is also unfair to judge  some that may be fortunate enough to be able to spend more money to boost their XP's when other's that do not have it in their budget may have performed better for longer .
   We do award and reward CC members for all that they contribute to the CC when they cross each 100,000 pt mark . But not just for their XP's .
  Members must be able to and willing to be available for any request or response asked by myself , our Directors , or any member of this CC . A simple courtesy if only a 2 letter reply . With in a reasonable amount of time . Complacency , unavailability , ignoring are not options for any member . 
  There are many benefits that each member enjoys here on a daily basis . To start with , the many various tournament formats and custom made  available at your fingertips with full details on every aspect complete round times for each member with reminders all the way through is almost invaluable and will not be found at this level anywhere else . Of course the basic free shot and putter pal for life is one that many enjoy . Is also one you can get at any CC but you wont have the personal attention our team will provide in the way of any sort help or answers to any game related needs . We will find the answers if we don't have them already . You have a voice and a position of respect here . No matter what tier or level or length of time in the CC . You will be fully respected by all . And all will expect the same from you .
  These specifics should not be a problem . And are not meant to intimidate anyone . And are no different from the way it has always been . Just spelled out more specifically . This is a CC a group of mature online golfers that by joining this CC . Agree to step up   to represent and voluntarily professionally and maturely demonstrate  and respect the inner workings , guidelines , rules and other members of this CC . And by individual actions clearly demonstrate this respect at all times.   
  By agreeing to all the above and anything else it takes to maintain the high level of quality and professionalism that we aspire to and enjoy here at VOTSCC . We gladly accept you as an equal and awesome member of VOTSCC .
   These are just the basic minimums of what starts this GR8 experience . You will find other situations and scenarios along the way not even mentioned here that will require you to step up as a member . This is a given and will occur from time to time . We all need to trust and know one another with no doubts of their integrity and intent in every matter .
  We are proud to have every one of you . And hope you all feel as we do and may we always be with the SUN .
Last edited by Paul on Fri Oct 22, 2021 6:00 pm; edited 17 times in total
What running a country club must feel like sometimes (Paul on the bottom)  Thanks for all you do, Paul!

Bertasion




Posts

: 5


Join date

: 2015-08-15



   THIS AMENDMENT  IS REGARDING  VARIOUS CONDUCT IN OUR WGT CC FORUM ONLY 
    PERSONAL ISSUES AND CONCERNS 
  Suppositions and accusations  regarding concerns of the actions or non actions of another member should not be presented in our public forum . They should be addressed by PM messaging between yourselves and a director or myself or Kelly .
  The reason for this is the concerns in question are likely one side of the issue . Without all the facts and parties sorted . Suppositions and accusations can be misleading and miscommunicated . Resulting in unwanted reactions . 

  Directors , Advisors , and Hosts 
  Should be addressed to with respect and sportsmanship in the public CC forum . 
  Concerns and issues should be done with PM messaging as well .
  Until now I have always encouraged members to freely voice their minds . This only works if they are addressing me . As has happened before and has happened again . When other members are involved something is likely to go bad .
  So when addressing anyone other than myself . Please use PM messaging to voice your concerns . 
Paul...I spent a few hours going through all the members participation in the CC as a whole and I was kinda surprised at what I found. I'm going to PM you (it's not going to be a short one but will let you know who Is very active and those who are not at all...Brace yourself!!!!

JimQ916




Posts

: 379


Join date

: 2014-12-31



Being an owner is hard work and takes a lot of time, KEEP UP the GREAT WORK Paul, Jim, Felecia  and all others who keep the club active.
E

ewilliams




Posts

: 2


Join date

: 2017-12-09



@ewilliams

wrote:Being an owner is hard work and takes a lot of time, KEEP UP the GREAT WORK Paul, Jim, Felecia  and all others who keep the club active.

E
  Thanx E . Being an ex owner . You would know for sure . I see you stumbled across our guidelines . I wrote those a couple years ago . it seemed that things were a lot busier . I wanted to put down on paper something to go by . 
  i don't shove them down he throats of the members anymore . Lol . But are still the basics and the guidelines and the direction for VOTSCC . 
  Not a big fan of rules . So I try to lay out some basics and ask the members to be smart . And do what they think a good member should do . 
  Thanx E
Last edited by Paul on Thu Feb 22, 2018 8:57 am; edited 1 time in total

Youreaver72




Posts

: 1


Join date

: 2018-02-22



  Thank you . I think . 
  I wrote those several years ago . As guidelines to help others to understand why I needed to communicate with everyone . To justify my own commitment to this venture . 
  None of it has been easy . I am fighting the same battles for 4 years now . I have lightened up a little . But I still stay believing that this will work . 
  We do have a GR8 group . We have a lot of fun . It is a lot of work .
  I have no idea what that is about . But if you want to advertise this . That is fine .
  I have created a Forum for you on the main page in.
PS I apologize for deleting your message so quickly . It was not in the correct forum . You will have better freedom to post . In your new forum .
It is called
It looks like this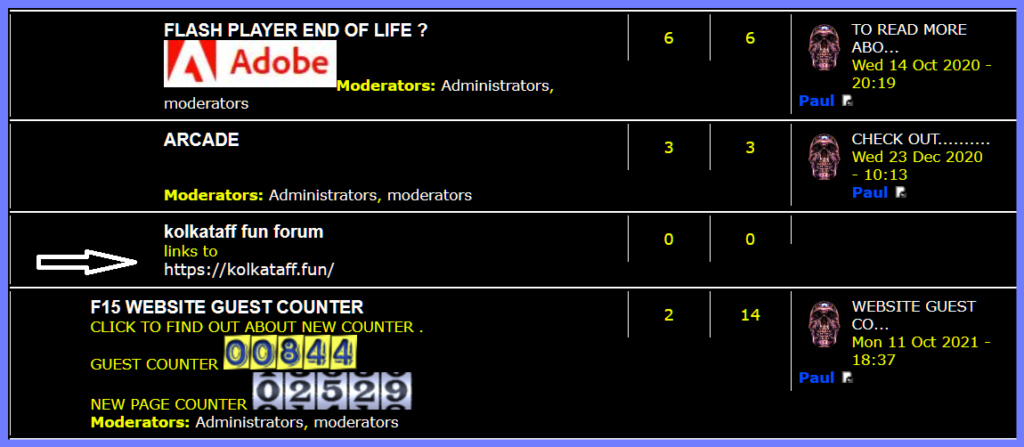 Just click on
And you will see this page .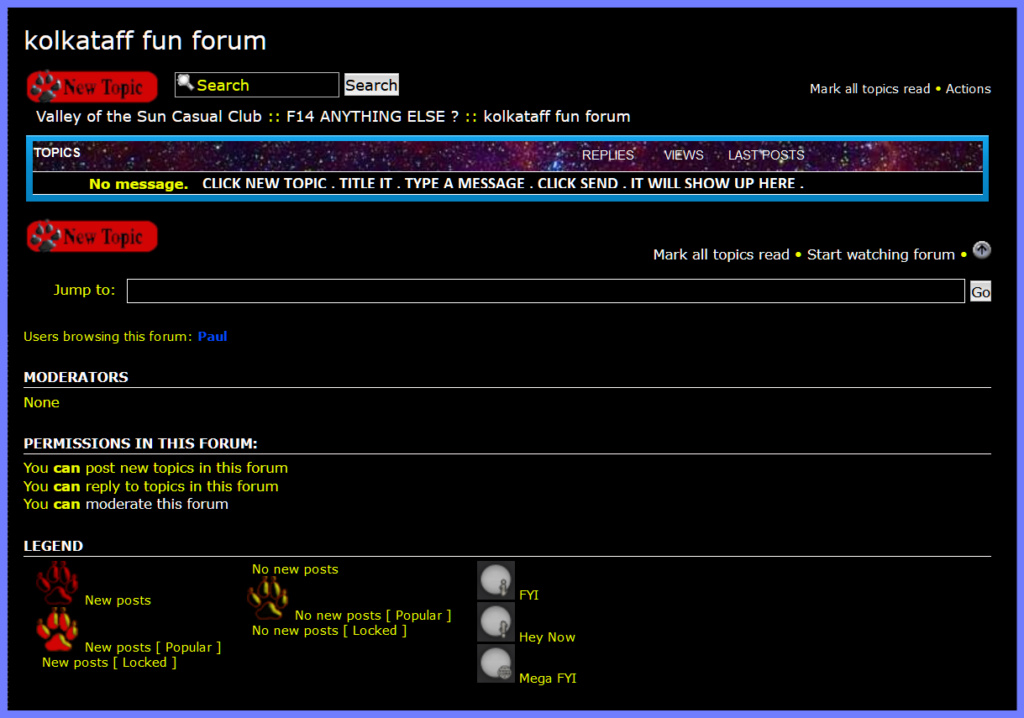 Good luck . Message me with any questions .

kolkatafffun




Posts

: 1


Join date

: 2021-10-17



Paul
  I have no idea what that is about . But if you want to advertise this . That is fine .
  I have created a Forum for you on the main page in.
PS I apologize for deleting your message so quickly . It was not in the correct forum . You will have better freedom to post . In your new forum .
It is called
It looks like this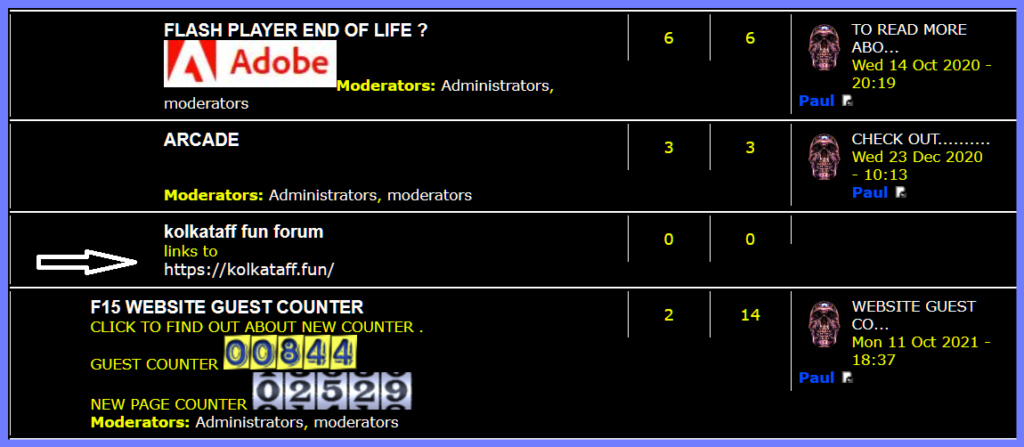 Just click on
And you will see this page .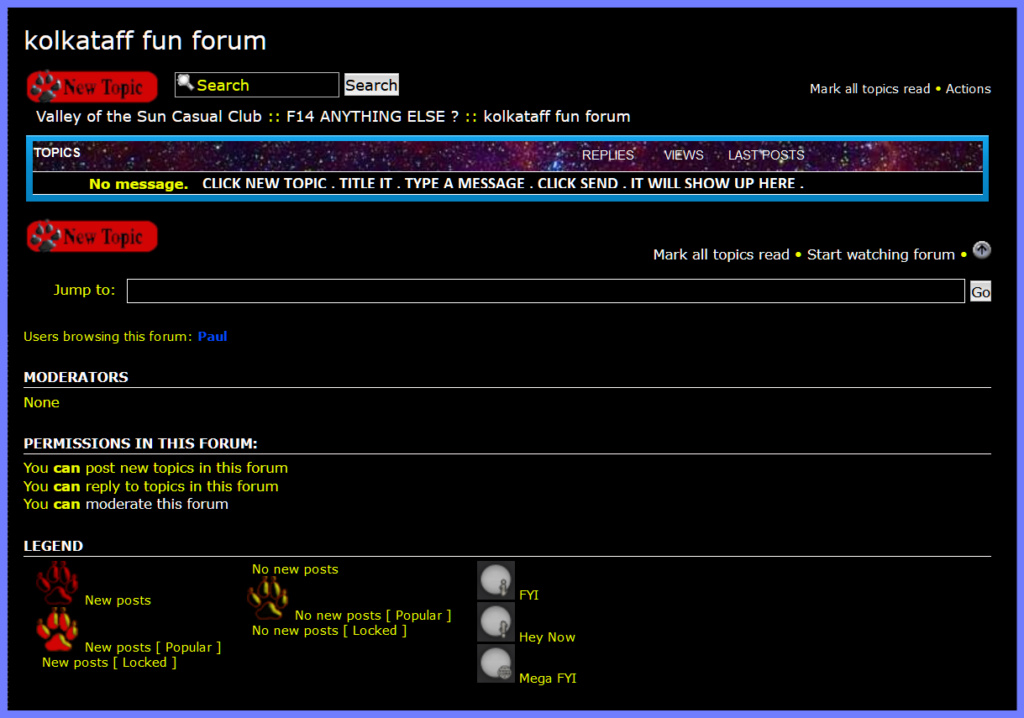 Good luck . Message me with any questions .
Please read the above post .
---
Permissions in this forum:
You
cannot
reply to topics in this forum