THAT'S ENTERTAINMENT
CLICK ON ANY OF THESE LINKS TO FIND OUR EXTREME ENTERTAINMENT
Statistics
We have
421
registered users
The newest registered user is
wizard
Our users have posted a total of
11516
messages in
2885
subjects
July 2022
| Mon | Tue | Wed | Thu | Fri | Sat | Sun |
| --- | --- | --- | --- | --- | --- | --- |
| | | | | 1 | 2 | 3 |
| 4 | 5 | 6 | 7 | 8 | 9 | 10 |
| 11 | 12 | 13 | 14 | 15 | 16 | 17 |
| 18 | 19 | 20 | 21 | 22 | 23 | 24 |
| 25 | 26 | 27 | 28 | 29 | 30 | 31 |
Calendar
71 WGT TUTORIALS & 32 YOUNG46 TUTORIALS
CLICK HERE
TO SEE OVER 100 YOUTUBE VIDEO TUTORIALS . FROM WGTers , WGT & YOUNG46
FORUM UPDATE
THIS FORUM IS FOR YOU ALL . PLEASE FEEL LIKE IT IS YOURS . READ THE FORUMS. POST COMMENTS . ASK QUESTIONS . IF YOU HAVE A COMPLAINT POST IT . MAKE SUGGESTIONS . READ SOME TUTORIALS . READ SOME GOLF TIPS . CHECK RECENT TOURNEY WINNERS . BROWSE OUR OLD FORUM ARCHIVES . LOG IN TO THE CHAT AND MESSAGE SOMEONE TO MEET YOU THERE AND ARRANGE A MATCH . LOG IN TO THE CHAT TO SEE IF SOMEONE IS THERE JUST TO SAY HI . MESSAGE ME IF YOU WANT TO GET ON THE DAILY BLITZ .
THE BLITZ SCORECARD IS ON
Page 3
PLEASE CLICK
HERE
TO FIND THE COURSE OF THE DAY AND SEE
THE WEEKLY STANDINGS .
PLEASE POST
YOUR SCORES HERE. IN THIS
KWIK KLIK TO YOUR FAV FORUM
Owner's Objectives
It's been a while since I expressed some of my objectives for the CC . First of all I like and respect everyone that joins our club . I realize that not everyone knows what a CC is all about . Many have different reasons for joining . I really don't know how many of the other clubs are run . They are all different . What I want to emphasize in our CC is that whatever tier you are . That you feel comfortable here , part of a team of players that come here to find conditions that enable them to improve their game , hone their skills , lower their scores ,lower their averages , move up in tiers . Enjoyably and comfortably with the conditions that challenge them enough to keep that drive without the frustrationsof regular game play . All that is completely possible by either creating those tourneys yourself or by messaging me about it . Or someone else in your tier that has been creating tourneys . Any kind of information that you need to know should be provided here , any kind of appp , calculator , help , tutorial , tournament , statistic , message , opinion , gripe , compliment , etc , etc . Should able to be aqcuired here ( or in our website , as it may be easier there ). With your help , all of this can be done easily . We already have a good start . I am going to be here for a very long time trying to achieve all this . For any of you that think it's a good direction for your CC to go in . Then lets keep on keepin on . Sincerely , Your Co team member PDB1 , Paul ( sitting here on a rare rainy day ) May the SUN always be with you
POST OF THE WEEK
Re:
Where are the Flags ?By Bertasion in Valley of the Sun Casual Club The other day upon the heather fair I hit a flagstick that was not there. I saw it's shadow and heard the clank but where it stood was just a blank. It was not there again today. I wonder when it will come back and stay. Brian
BLITZ LIST
HERE IS THE LIST OF BLITZ COURSES IN THE ORDER THEY ARE PLAYED EVERY WEEK OF EVERY SEASON .
DAILY BLITZ WEEKLY SCHEDULE



WEEK 1

BEST OF BANDON PAR 3
PEBBLE BEACH
THE OLYMPIC CLUB
VAHALLA
MERION


WEEK 2

PINEHURST NO.2
HARBOUR TOWN
KIAWAH ISLAND
ROYAL ST. GEORGE
CONGRESSIONAL


WEEK 3

ERIN HILLS
ST. ANDREWS
BALI HAI
CELTIC MANOR
BETHPAGE BLACK


WEEK 4

PINEHURST NO. 8
WOLF CREEK
CHALLANGE AT MANELE
EXPERIENCE AT KOELE
HILVERSUMSCHE


WEEK 5

EDGEWOOD TAHOE
BEST OF WATER SHOTS
BEST OF FAMOUS SHOTS
BEST OF PUTTING
CHAMBERS BAY
TIER & AVERAGE REQUIREMENTS
BASIC LEVEL AND AVERAGE REQUIREMENTS , AND SATURATION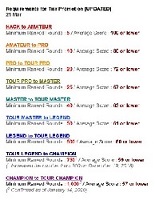 WHAT YOU CAN DO TO ABOUT IT
WHAT'SUP WHATSAP AND OTHER APPS . HERE IN THIS SITE . THE SKY IS YOUR LIMIT . IF YOU WANT TO PROMOTE , GROW , SHARE , IMPROVE , UPDATE POST AND LEARN ABOUT YOUR PRODUCT OR ANY PRODUCT . YOU CAN DO ALL OF THE ABOVE . JUST DO IT .
Sunday 3/15
A golfer hooked his tee shot over a hill and onto the next fairway. Walking toward his ball, he saw a man lying on the ground, groaning with pain.
"I'm an attorney," the wincing man said, "and this is going to cost you $5000."
"I'm sorry, I'm really sorry," the concerned golfer replied. "But I did yell 'fore'."
"I'll take it," the attorney said.
__________________________________________________________________
A man walked into the clubhouse and noticed a friend sitting in a corner wearing a neck brace. He sat down and asked his mate what happened."Well, I was playing golf and I hit my ball into the rough," replied his friend. "Then I met a chick who was looking for her ball too. Finding mine, I thought I'd give her a hand. There was a cow nearby and I noticed that every time the cow twitched its tail there was a flash of white. So I went over to it and lifted its tail and sure enough there was the ball. I called out to the chick and said, 'Lady, does this look like yours?' And the bitch hit me in the neck with her driver!"
________________________________________________________________
A guy out on the golf course takes a high-speed ball right in the crotch. Writhing in agony, he falls to the ground, when he finally gets himself to the doctor, he says, "How bad is it doc? I'm going on my honeymoon next week and my fiancée is still a virgin in every way." The doc said , "I'll have to put your penis in a splint to let it heal and keep it straight. It should be okay next week." So he took four tongue depressors and formed a neat little 4-sided bandage, and wired it all together; an impressive work of art. The guy mentions none of this to his girl, marries, and on his honeymoon night in the motel room, she rips open her blouse to reveal a gorgeous set of breasts. This was the first time he saw them. She says, "You are my FIRST, no one has ever touched these breasts." He whips down his pants, points at his penis and says... " Look at this, it's still in the CRATE!"
______________________________________________________________
A golfer and his buddies where playing a big round of golf for $200. At the eighteenth green the golfer had a ten foot putt to win the round, and the $200. As he was lining up his putt, a funeral procession started to pass by. The golfer set down his putter, took his hat off, placed it over his chest, and waited for the funeral procession to pass. After it passed, he picked up his putter and returned to lining up his putt. One of his buddies said, "That was the most touching thing I have ever seen. I can't believe you stopped playing, possibly loosing your concentration, to pay your respects." The golfer replied  "Well, we were married for 25 years!
______________________________________________________________
Golf in the Bedroom Rules of Play;
Each player shall provide his own equipment - normally one club and two balls. Play on a course must be approved by the owner of the hole. Unlike outdoor golf, the object is to get the club in the hole and keep the balls out of the hole. For the most effective play, the club owner should have a firm shaft. Course owners are permitted to check shaft stiffness before play begins. Course owners reserve the right to restrict club length to avoid damage to the hole. The object of the game is to take as many strokes as necessary until the course owner is satisfied that the play is complete. Failure to do so may result in denied permission to play the course again. It is considered bad form to begin playing the hole immediately upon arrival at the course. The experienced players will normally take time to admire the entire course, with special attention to well formed bunkers. Players are encouraged not to mention other courses they have played, or are currently playing, to the owner of the course being played. Upset owners have been known to damage a player's equipment for this reason. Players are encouraged to bring proper rain gear for their own protection. Players should assure themselves that their match has been properly scheduled, particularly when a new course is being played for the first time. Previous players have been known to become irate if they discover someone else playing on what they considered to be a private course. Players should not assume a course is in shape for play at all times. Some players may be embarrassed if they find the course to be temporarily under repair. Players are advised to be extremely tactful in this situation. More advanced players will find alternate means of play at this time. Players are advised to obtain the course owner's permission before attempting to play the back nine. Slow play is encouraged. However, players should be prepared to proceed at a quicker pace, at least temporarily, at the course owner's request. It is considered outstanding performance, time permitting, to play the same course several times in one week.
________________________________________________________________
A golfer who has been slicing off the tee at every hole . He finally gives up and asks his long suffering caddy:
Golfer: "Can you see any obvious problems?"
Caddy: "There's a piece of shit on the end of your club."
Golfer: He picks up his club up and cleans the club face . . .
Caddy: "No sir, it's at the other end"

JimQ916




Posts

: 379


Join date

: 2014-12-31



Similar topics
---
Permissions in this forum:
You
cannot
reply to topics in this forum