September 2023
| Mon | Tue | Wed | Thu | Fri | Sat | Sun |
| --- | --- | --- | --- | --- | --- | --- |
| | | | | 1 | 2 | 3 |
| 4 | 5 | 6 | 7 | 8 | 9 | 10 |
| 11 | 12 | 13 | 14 | 15 | 16 | 17 |
| 18 | 19 | 20 | 21 | 22 | 23 | 24 |
| 25 | 26 | 27 | 28 | 29 | 30 | |
Calendar
Statistics
We have
464
registered users
The newest registered user is
kumarsharma91910
Our users have posted a total of
34107
messages in
5068
subjects
THAT'S ENTERTAINMENT
CLICK ON ANY OF THESE LINKS TO FIND OUR EXTREME ENTERTAINMENT

71 WGT TUTORIALS & 32 YOUNG46 TUTORIALS
CLICK HERE
TO SEE OVER 100 YOUTUBE VIDEO TUTORIALS . FROM WGTers , WGT & YOUNG46
FORUM UPDATE
TO THE MANY WELCOME GUESTS . THIS FORUM IS NO LONGER A COUNTRY CLUB WEBSITE FOR A WGT COUNTRY CLUB . PLEASE FEEL FREE TO READ THE FORUMS.

THERE ARE MANY TOPICS OF INTEREST . OR NOT . THIS WEBSITE IS AN INFORMATION AND ENTERTAINMENT WEBSITE ONLY .

MUCH OF THE CONTENT IS ARCHIVES OF PURPOSES PAST .

THERE ARE SOME MORE CURRENT TOPICS .
REGISTRATION IS NOT NECESSARY TO READ THROUGHOUT .

REGISTRATION IS EASY AND FREE . THIS IS AN AD FREE WEBSITE . NOTHING IS EVER REQUESTED FROM REGISTERED MEMBERS .
REGISTRATION ENABLES COMMENTING ON TOPICS . POSTING NEW TOPICS . FULL ACCESS TO THE WEBSITE IMAGE HOST . WHICH IS A VERY COMPLETE AND CONVENIENT TOOL .

PLEASE ENJOY .

ALL NEW
TIER & AVERAGE REQUIREMENTS
BASIC LEVEL AND AVERAGE REQUIREMENTS , AND SATURATION
WHILE YOUR HERE
WHILE YOUR HERE :
CHECK OUT THE INCREDIBLE PHOTOGRAPHY IN

MY SERIES

&

& MORE . ALL IN THE FORUM
THIS USED TO BE THE HOME OF OUR WORLD CLOCK . WHICH CAN NOW BE FOUND IN ITS OWN FORUM ON THE MAIN PAGE ..
THERE ARE MORE WORLD CLOCKS INSIDE HERE .
BLITZ 16
Supposedly . We'll see .

International Allyship Day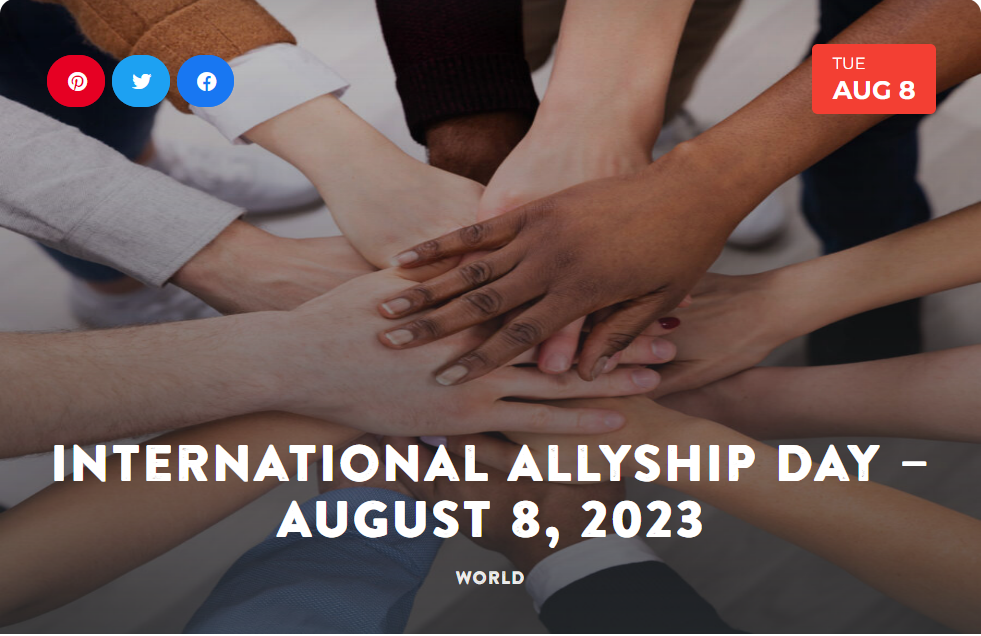 Today we embrace the first official observation of International Allyship Day. This important addition to the calendar encourages us to stand up for one another, foster inclusivity, and build bridges of support and understanding to create positive social change.

Allyship is about advocating for the inclusion of those who are marginalized in all areas of society. This holiday offers an opportunity to challenge gender stereotypes, call out discrimination, draw attention to devaluing behaviors, and create inclusive environments.
International Allyship Day is celebrated annually on August 8. This holiday dedicates the day to celebrating and promoting the power of allyship across the globe. On this unique day, we come together to recognize the importance of standing up for one another, fostering inclusivity, and building bridges of support and understanding.
Dictionary.com defines allyship as the status or role of a person who advocates and actively works for the inclusion of a marginalized or politicized group in all areas of society, not as a member of that group but in solidarity with its struggle and point of view and under its leadership: Genuine allyship does not come with special recognition — we do not get awards for confronting issues people have to live with every day.
History of International Allyship Day
International Allyship Day is a holiday founded in 2023 to celebrate the incredible strength in unity. It is a day to embrace diversity, celebrate differences, and foster a sense of belonging for everyone!
This holiday encourages communities to show up authentically and work together to create positive social change. Networking, workshops, events, and community gatherings can achieve engagement, inspiration, and connection to advocate for others in the workplace and at home.
Multiple national studies indicate that four out of five US-based employees are familiar with or have participated in unconscious bias training. This training, while being extremely valuable, is only the beginning. International Allyship Day exists to enforce and encourage the practice of allyship. Awareness without action does not move the needle. Active and genuine allyship is about consistency and continuously taking action despite biases to treat all others equally and equitably.
This holiday highlights now as the time to tackle equity, as we can all challenge gender stereotypes, call out discrimination, draw attention to devaluing behaviors, and create inclusive environments.
How To Observe   Educate
   On International Allyship Day, why not read up and share some resources with those in your social circles? You can plan an event to discuss allyship and how to apply it to your community. Or take an allyship assessment to see where you are on the allyship continuum and what you can do to be a better ally to others.
   Activate
   In celebration of this holiday, we recommend having an honest conversation with a member of an underrepresented community, discussing their experiences and what can improve them. You can even ask what you specifically can do to be a better ally for them.   
Celebrate
   Allyship is not a project with a start and finish. It's a process, a journey. Consider the progress your organization has made and celebrate the practice of allyship and those individuals who "walk the talk" to make their work and home environments more equitable. Bring your teams together and commit to continuing the work.
Five Thought-Provoking Facts About Allyship Day   Diversity drives performance
   78% of organizations prioritize diversity to improve workplace culture, while 62% aim to boost financial performance. Research from TeamStage: Women in the Workforce 2022 shows that even a 10% increase in gender-focused diversity can positively impact and increase total profits.   
Allyship practice in the workplace is in its infancy
   Despite 84% of employees reporting being part of unconscious bias training, the Integrating Women Leaders Foundation 2022 State of Allyship-in-Action Study illustrates only 47% included allyship training while only 34% included participatory communities.   
The gender gap is prevalent…
   The McKinsey/Lean In 2022 Women in the Workplace Report highlights heartbreaking truths. For every 100 men getting their first promotion, only 87 women receive a promotion. Similarly, these numbers are notably lower for women of color or members of similarly underrepresented communities.   
…and gets worse at the top
   The Harvard Business Review brought to the public's attention that the CEOs of large companies are significantly more likely to be a man by the name of John or David than a woman. 
 Is progress progressing?
   The World Economic Forum's 16th Global Gender Gap Report illustrates the gender wage gap expects to close, but not for another 132 years at the current speed and rate of change.
Why International Allyship Day is Important   We can all be allies to others
   We all have privilege over others, and as such, all have an opportunity to practice allyship. Now is the time to capitalize on the growing momentum around concepts of allyship. And now is the time to tackle equity as we can all challenge gender stereotypes, call out discrimination, draw attention to devaluing behaviors, and create inclusive environments.   
Collective activism in the form of allyship will drive change
   Research indicates that those who participate in ongoing allyship practices (communities, not one-and-done training) bridge the "allyship gap" in thought and action.   
Allyship continues even when the holiday is over
   Allyship is more than a day of conversations at work. Allyship is a journey. Gather your teams together and continue this work.
---
Permissions in this forum:
You
cannot
reply to topics in this forum