September 2023
| Mon | Tue | Wed | Thu | Fri | Sat | Sun |
| --- | --- | --- | --- | --- | --- | --- |
| | | | | 1 | 2 | 3 |
| 4 | 5 | 6 | 7 | 8 | 9 | 10 |
| 11 | 12 | 13 | 14 | 15 | 16 | 17 |
| 18 | 19 | 20 | 21 | 22 | 23 | 24 |
| 25 | 26 | 27 | 28 | 29 | 30 | |
Calendar
Statistics
We have
464
registered users
The newest registered user is
kumarsharma91910
Our users have posted a total of
33527
messages in
5015
subjects
THAT'S ENTERTAINMENT
CLICK ON ANY OF THESE LINKS TO FIND OUR EXTREME ENTERTAINMENT

71 WGT TUTORIALS & 32 YOUNG46 TUTORIALS
CLICK HERE
TO SEE OVER 100 YOUTUBE VIDEO TUTORIALS . FROM WGTers , WGT & YOUNG46
FORUM UPDATE
TO THE MANY WELCOME GUESTS . THIS FORUM IS NO LONGER A COUNTRY CLUB WEBSITE FOR A WGT COUNTRY CLUB . PLEASE FEEL FREE TO READ THE FORUMS.

THERE ARE MANY TOPICS OF INTEREST . OR NOT . THIS WEBSITE IS AN INFORMATION AND ENTERTAINMENT WEBSITE ONLY .

MUCH OF THE CONTENT IS ARCHIVES OF PURPOSES PAST .

THERE ARE SOME MORE CURRENT TOPICS .
REGISTRATION IS NOT NECESSARY TO READ THROUGHOUT .

REGISTRATION IS EASY AND FREE . THIS IS AN AD FREE WEBSITE . NOTHING IS EVER REQUESTED FROM REGISTERED MEMBERS .
REGISTRATION ENABLES COMMENTING ON TOPICS . POSTING NEW TOPICS . FULL ACCESS TO THE WEBSITE IMAGE HOST . WHICH IS A VERY COMPLETE AND CONVENIENT TOOL .

PLEASE ENJOY .

ALL NEW
TIER & AVERAGE REQUIREMENTS
BASIC LEVEL AND AVERAGE REQUIREMENTS , AND SATURATION
WHILE YOUR HERE
WHILE YOUR HERE :
CHECK OUT THE INCREDIBLE PHOTOGRAPHY IN

MY SERIES

&

& MORE . ALL IN THE FORUM
THIS USED TO BE THE HOME OF OUR WORLD CLOCK . WHICH CAN NOW BE FOUND IN ITS OWN FORUM ON THE MAIN PAGE ..
THERE ARE MORE WORLD CLOCKS INSIDE HERE .
BLITZ 16
Supposedly . We'll see .

Besides the predominant , challenging , entertaining , interesting , learning experience , plethora of formats and choices . The honor of playing with and meeting interesting and wonderful people from all over the world .Whether it be by playing the Multiplayer formats . Or creating or joining 1 or more WGT Country Clubs . To have the pleasure to be able to experience all these wonderful possibilities available only in the WGT Universe .
The above is what I experienced for 11 years . And then some . So much more . As I also found interests in recognizing and awarding with praise or accolades , trophy's . To WGTers who accomplished amazing feats in their journey .
Something WGT was/is remiss to do .
So I did . Thousands of them . Trophy's for all .
And the joy they brought . The appreciation for being recognized was over the top . Many times overwhelming for them amd me  . That someone noticed , recognized and awwarded them with what was probably their first and only trophy received in WGT . For many .
Others have received trophy's from their Country Clubs . For their amazing contributions and acheivements in their CC's .
What was also so fantastic about it all is the platform I could use for displaying all of these GR8 players .
The WGT.com/forums
.
A huge open forum for all things WGT . WGT admin as a whole did/does not do much in the way of putting much effort into explaining all the different formats and intricacies, approaches , options , preferences , levels , tiers , formats , etc . That go into experiencing the WGT.com virtual golf phenomenom .
 These open forums have been built and filled with the answers to anything possible in WGT . And then some . By the knowledge and theories and anecdotes and equations and formulas and research done by The amazing players of the WGT Universe .
This is no hype . Much less this is not hyperbole . That is exactly what the
The WGT.com/forums
. Are .
Aside from what one learns from the playing experience . Everything else is and can be found in the 
The WGT.com/forums
. Or ones CC forum . Which is where I learned everything .
I also used this platform to post the amazing acheivements from the WGT players that I happened to notice .
For 11 years .
I am going to post links to many of those .
Links to copied threads to this website . So that you are able to view my posts as well .
This topic would not be even necessary . If I was not banned forever from the 
The WGT.com/forums
. Also hiding all of these uplifting , positive , optimistic posts and threads that I spent 11 years on these projects . They are all hidden from public view .
Do not ask me why . I cannot tell you what goes on in the sick minds of negative and pathetic people that set me up to disappear .
These are flame baiting trolls that control those
The WGT.com/forums
. They are original WGTers that have long time relationships with WGT Moderation and WGT Admin .
That is the explanation of how a person with 100% positive intentions . With thousands of GR8ful friends and recipients of all of my positive awards .
Can be politically , selectively , discriminatly , be banned from these
The WGT.com/forums
.
By arbtrary abuse of power . And no other reason .
Just the fact that this happened . Boggles ones mind just trying to accept it as reality .
It is not as though I am in denial and won't accept that I did wrong . NO . Not even close .
I am still trying to get an audience with someone above the WGT.com ranks that made this decision . That will listen to the actual facts . Eventually I will .
But that is a different effort . Nothing to do with this thread/post/forum/topic .
Which is an advertisement for the
The WGT.com/forums
. Which they really do not deserve .
But neither do my posts deserve to be hidden . Nor is it even fathomable that I no longer can participate and contribute and enjoy the
The WGT.com/forums
.
The only way myself or you would be able to view them . Is in my website right here .
I have actually been posting various threads , posts , excerpts here since 2013/2014 .
Since there are so many here already . It will be easy to just post the links to them .
Last edited by Paul on Tue 29 Aug 2023, 3:46 pm; edited 1 time in total
Since June 2 2023 . ( 3 months ) . Even though the WGT.com/forum email preferences and settings . "
Sorting and Filtering
" . Is still broken/corrupted .
 My settings fixed on receiving all forum replies . All . Including all new posts in every forum . All posts in CC Corner from all CC's ( all of those are categories I have never posted in ) . All topics I have ever created and or even posted in .

This is not shocking . There are several multi media systems within WGT .
A)
WGT.com/forums
. 
B) Wall posts to another members wall . 
C) Blog posts to your own wall .
D)  P.M. Messaging ( private messaging ) . 
E) CC forum messaging . Creating , responding .
(there may be a few others )
 If you are the owner you also have the ability to sticky , edit , structure your CC forum . There are also various editing tools called " Owners Tools " . Which gives the owner the ability to label the status of each member . Permissions to allow or not to allow for various benefits . Etc , etc , etc .
Those 6 different main multi media systems are all a little different . All of them endure lots of heavy usage .
As per usual . WGT admin has chosen to ignore these various multi media systems . As far as attending to any maintenance or issues that disrupt the usage and flow of these systems .
Since their inception . Day 1 . 2007 , 2008 , 2009 . Whatever date the function started/began as a tool in WGT . Was the last time any attention was given to these " tools " .
No sorting , deleting , defragmenting , maintaining . In any way . IGNORED COMPLETELY FOR THE NEXT 16 YEARS .
As a result . many of these multi media systems could not hold up to the constant onslaught of members/players/users/posters/messagers . Using these systems constantly 24/7/365/16 years .
Many of them have lost their functions to users /CC owners completely . Some just partially function . Just enough to annoy the hell out of anyone attempting to use them .
When one writes to start a ticket with
Customer Support
. Regarding issues of these types . No longer will one receive replies like :
We will forward this to the proper department
We will forward this to the QC department .
We are aware of this . Thank you .
We are working to correct this .
We are working on it .
NOPE . One will no longer get those replies . You will not get any response at all . PERIOD .
Those systems are so corrupted/broken/beyond hope . For the simple reason of complete neglect .
To respond to the inquiries and reports . Would be admitted awareness of these problems .
There is no one better than evading , neglecting . denying the truth than WGT.com Admin .
No one does that better . 
Fun fact huh ?
Anyway . Since June 2 2023 . I have become essentially blind to the 100 plus daily automated forum reples That dominate my emails EVERY DAY .
Yes . I can and do ignore them . It took a while . But I delete them all .
I could change my email and not receive any at all .
But I shouldn't have to . I should be able to participate and contribute to/with all of the
WGT.com/forums
. As all other WGTers have the privelage , honor and right to do so .
Is is not odd that the obvious and blatent , negative , abusive , degrading and insulting , flame baiting trolls ? That dominate the forums ? Have complete immunity to their disturbing , psycotic practices against many forum participants ?
That myself . By far one of the most positive posters and influencers in the
WGT.com/forums
history . That I have never practiced those negative antics . That I have received thousands of thank you's from the many recpients of my awards . And actually acknowledged and thanked and told they have benefitted from much of my advice and anecdotes and suggestions .
Do you think that any of those trolls have received support or gratitude from anyone other than their own narcissistic selves ? No of course not .
Have/are they banned from the
WGT.com/forums
? Are their degrading insults and sick humor hidden from public view ?
That's a resounding NO .
My point is . Not just why me ? But how is this even possible .
I have the proof on paper that I am appreciated and enjoyable to see in the forums .
Aside from the yes thousands of letters of thanks , friendship and appreciation I have received over the years .
The messages below are some of the support I received after June 2 2023 . Of course these are PM's ( private messages ) . I will respect their anonymity . But I will say that some of them are some of the most respected and prominently known in WGT .
EX :
So, a bunch of your forum posts got deleted and you haven't posted since...I gather you are in poop with the moderators?
How long is your punishment....
and why are you even being punished?
---
Hello Paul, that's an awful situation. Of course I will support you. A couple of people on my friend list are moderators. I will send them a positive message on your behalf.
kind regards,
---
So, so sorry to hear about this, Paul..........
the baiters & trolls who try to actually run the forums for themselves, as their private conversation piece so to speak, are the people who should be moderated and banned. Not just from the forums but from playing the game also in my opinion.
I do look in on the forums probably once maybe twice per week at most. I get sickened by some of things and answers that I read. I do answer sometimes to a person that needs help but I have to write then edit then look again at the words I have written, just in case it upsets any player. Then when I have double or even triple checked my words, only then do I hit that send button.
Things are getting ridiculous there, most of the fun has gone and it is bile being written and aimed at people. So much jealousy I think.
I have seen some of the posts you have made, Paul. You speak your mind and say what you think. I do not think you abuse anyone intentionally, but everyone has the right to answer back when bad or cruel lies & things are said about them. Have they all forgotten about all the help you have given to others over the years ? All the wonderful awards and trophies you given out. The special mention and merit you have bestowed on players. That in itself deserves an award!
You have my full support and rest assured that I will be in touch with the powers that be. This is basically a good game to play and as a pastime it does bring enjoyment. Please do not let them get you down. Treat it like water off a duck`s back. Keep on playing and enjoy the game part.
Kindest regards to you, Paul.
Take care,
---
Of course I will Paul...Tisk, Tisk WGT!!  I will give it my best effort.... as you know I have ALWAYS supported you as 95% of the time we are of the same opinion. And the other 5% if it happens we were on different sides of the fence, I believe we acted like adults (of sorts) or at least as  Tim The tool Man & Wilson might on a rare minor disagreement. So, I will write out a truthful letter of support in your "heavy" favor and put it out to the appropriate parties (three) to be more specific and hopefully after all these years my endorsement means what it should and please reach out to others to do as I do.
Your Friend
---
Hi Paul Sorry to here this has happened to you. Over time I have come across a few of your forum posts and personally see nothing wrong with the ones I have seen. I will contact members on your behalf and put in a good word. I hope the situation gets resolved in your favour brother. Hangin there mate
---
I have no direct communication with ShamWow, and my previous experience of dealing with him is that he is a stubborn idiot. I vaguely remember him getting promoted to something like Customer Relations Manager, which would make it unlikely I could get any other moderator to outrank or overturn his decision.
Did Yiannis also get moderated for posting the same as you, or has he been treated differently because of fewer previous 'offences'?
---
I don't know what to say to you Paul, but if other people here did to me what they do to you I would've walked away a long time ago.
---
Hi Paul.  I'm sorry to hear that you are having these problems in the WGT forum.  Any time I have written there in the past (which has been rare), the trolls come up in large numbers.  The last time I posted anything on there was several years ago, and the trolls were totally nasty towards me again and I vowed to never go in the WGT forum anymore.  I don't even read it.
The only good thing that came from it was that some people chimed in and were sticking up for me and complimenting me for my accomplishments.  You were one of those people, Paul.  Another one was jhoelscher, who was also a complete stranger to me, but the co-owner of Majestic Mountain at the time.  After that happened, I got a random gift of 5 CC passes from him (and I didn't even know who he was).  A couple of months later, I had become bored with the tiny CC I started to decompress and started to get out of the rat race of Clashes and other stuff, but was bored with the lack of CC forum activity and overall activity in my 20-member CC.  So, I looked for a large club that had no expectations for Clashes, etc., but just wanted active members.  Because jhoelscher had sent those passes to me, I looked at Majestic Mountain and reached out to him with questions about their expectations.  When it appeared to be a perfect fit for me, I asked him if he would let me join there, which he did.
I wished I had joined there 10 years ago (or whenever they started), because I have been totally happy playing there for the past 3+ years.  No drama, and tons of nice people.  No expectations other than to be active playing whatever is fun for you.  Jeff (jhoelscher) passed away last year, which was very sad.  But the founder (and owner) PeteGherardini, is cut out of the same cloth as Jeff and does an awesome job keeping the values of the club in place.
Anyway, I'm leaving in the morning for a 3-week vacation.  I won't be online much at all.  But, as soon as I have a chance, I will write a message of support for you per your above request. I don't know if it will make any difference, but I'm happy to do it.
Hugs
---
Hi Paul,
First, good to hear from you. Hope all is well with the family. While I'm actively playing these days I'm not really active in the forums or the CC anymore. When I joined my current club I told the owner I was really renting a locker and I planned on playing when and where I wanted. I know the forum can be brutal at times and one of the reasons I rarely look these day. So I don't think I can be any help there.
Things are quite different here. I lost my bride last fall, one month short of our 51st anniversary. I'm getting a lot of fix up work down and may be selling the house. I really don't know.
Sorry I can't be any assistance but I'm sure you'll work it through. You've overcome a lot worse in the past.
Have fun and hit 'em straight,
---
Hello Paul,
that's indeed a problem, and undeserved, I think. With a little tolerance by ev1, any individual touch by a fellow member should be answered by chuckling, shrugging shoulders, or, as I do in case of I-Henry, by falling quiet or ignoring him. And, as a friend, I must say that you have some individual touch...
My problems have been temporary, when the exclusion of my CC members was ongoing. Luckily, it was only "moderation" and only temporary - in hindsight, it was o.k. how WGT handled it.
That said, I don't see how I might help you. Pleading to the Powers looks inefficient to me, and I don't know how to support you in the Forum. To be honest, I'm on my way out, trying to shift my CC duties to another Rabbit. My main activity for a year or more has been the Forum, and I have noticed some signs of disapproval there. Subjects are changing, the discussion (but not me) is moving to Discord, so it may be time to shut that door, or at least look on it from more distance.
I'm hoping that you find some tranquility and peace for yourself when your disappointment may settle.
WGT won't change, but you and I may!
Ciao,
---
Just sent the following:
What's up with pdp1 ? 
pdp1 has always been helpful and considerate with me.
---
Hello and good morning Paul. I did what I promised, and messaged both Sham and Nico regarding your current demise. Let's hope it works. Regards
---
Thank you for the 4000 day trophy. I really appreciate it.
---
I can't believe they can be so draconian that they give you no right to appeal. You had thousands of posts which were infotmative, helpful, and educational. And all gone for what? 
I'm always here if you need to vent. If I can do anything mnore, please tell me and I'll do it in a hearybeat.
Stay strong
-----------
3 from same person ....
My dearest friend Paul. So sorry I only saw this now. I've posted on Wgt forum. I truly hopes it's ok. U truly are the best one I've met on WGT. keep being the great person u are. Remember u brought so much joy to all off us. U ARE DA BEST EVER. Your friend always
My dear friend Paul. How are u doing. I think of u and the situation u are in now daily. That's just so wrong !!! Stay positive and keep doing the great work u are doing Paul. I hope your Sunday is good to u. Cya soon. Best wishes
I can't believe what WGT did it to u. I've posted on WGT forum and hope they will allow that. It's truly so unforeseen and unfair There will always be haters BUT all your friends know u are the greatest on WGT ….always helping out and speak the truth !! All the best to u Paul. May the sun always on your back. Best wishes to u my my dear friend. U are a great person.
---------------------
 Paul, you are a veteran WGT'er and should be treated with respect.  It offends me what they and the moderators are doing.  I will do what ever I can.
---
As you know TopGolf owns WGT.  I'm not sure if the email would get to the right people, but you can try asking for a contact through their online email page >>>>   
https://www.topgolfmedia.com/#contact
---
Yeah, your situation does feel a bit one sided with regards to what went on here, but look at it this way, at least you're not getting attacked on here anymore. That's good, isn't it?
Sorry to hear about your wife, getting older is not much fun is it. But at least you have each other and know that someones cares as much for you as you do them. Some people in this world have no one.
Do you have to work on a roof at your age, could you not do something a bit less strenuous?
I have been hearing about this heatwave going on in various places, glad it's not here in the UK, maybe it's a sign to everyone to stop burning fossil fuels, if that's what's doing it, I not 100% convinced it is but I'm sure it's not helping the situation.
There must be bazillions of forums on the internet and I'm sure you have many interests Paul, I bet you'd fit right in somewhere on a least one of them.
You can still message your friends on here too, so it's not like you've been completely cut off.
Don't give up hope Paul, you never know what is round the corner, probably just another corner, but one day it might just be an oasis!
You take care too Paul.
---
Considering all that you have read . Also believing me when I say that there is no real evidence on paper that can show any infractions . ( well maybe 1 or 2 very minor not even laughable ) .
Like the one that got me banned . A first for me . A longtime loudmouth . I mean member . Told me to STFU .
I returned the sentiment ( very unusual for me . Never done that before ). I said " in this case you should stfu ". Quote , UnQuote .
Not even capitalized . Not written out SHUT THE FUCK UP .
The moderator says
@ " You posted "Well then , in this case you should stfu .." These types of posts are not permitted, no matter who started it. 
These are just examples from the past couple days. These types of posts are not permitted, no matter who started it. Per our previous message, your account has been barred from using the forums as you were already given a final warning about this.
No other post in the last couple days . Not from me .
That final warning was given to me also after an incident that never happened . I can prove that there is no incident recorded that warrants that warning .
 Just a concerted , blatant , defaming abuse of power with no basis or history , proof or reason .
Judging from some of the inquiries and speculations and responses regarding the current issues in the game . In the forums .
I am glad I am not able to respond . So many seem clueless to the ever growing disparity . Amongst the Tiers and Levels .
That there are 2 completely different algorithms running the game .
The original algorithm . In which every Tier is a calculated and continual climb . Playing Ranked Rounds . With the objective to improve and continually play at a pace where you accomplish lower scores . Which is the only way to lower your average . 
Playing a lot of Ranked Rounds 9 hole rounds . To completion .
Depending on how enthusiastic one is will determine how high of a Level they are .
Here are those guidelines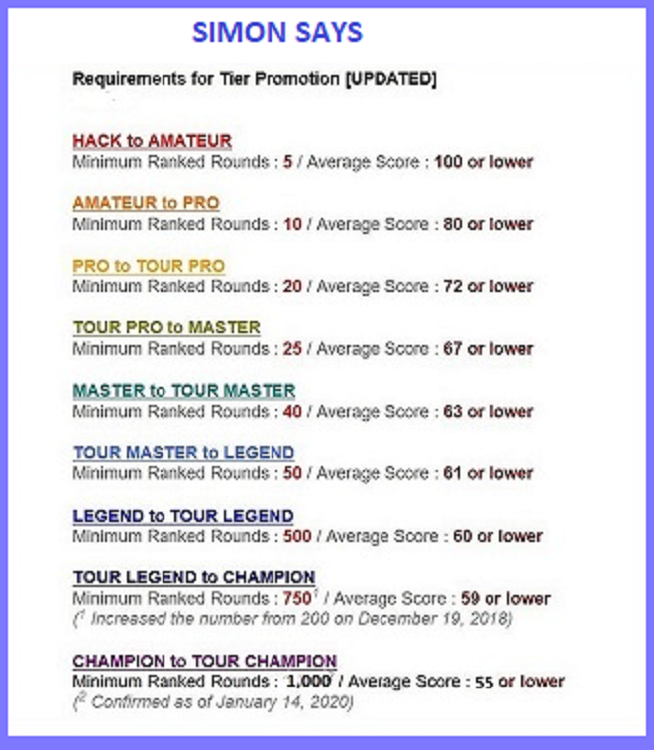 But there is no corolation between Tiers and Levels .
Then there is the Mobile algorithm . No Ranked Rounds or 9 hole rounds are required . Or even encouraged . No organized rounds . Counting all the statistics . No emphasis on ones average or even completing rounds .
One just plays as many random non Ranked 1 hole 3 hole 9 hole Coin Room rounds as they can . Once they have played a massive amount . They automatically get moved up to each tier .
Without ever having to play any real WGT Golf . They have only played Coin Room rounds . With no expectations to challenge themselves in Ranked Round Play .
That is where the disparity comes in .
There are so many players in each mix now . That the many that are too good for their low tier .
Or not good enough for their high tier .
Are not able to keep under the radar any longer .
The many ignorant newer players that do not know any of the above . Or do not have the sense to use the SEARCH feature in the forums .
Will remain ignorant .
Will continue to complain about a game they know nothing about .
---
Permissions in this forum:
You
cannot
reply to topics in this forum