THAT'S ENTERTAINMENT
CLICK ON ANY OF THESE LINKS TO FIND OUR EXTREME ENTERTAINMENT

Statistics
We have
451
registered users
The newest registered user is
daviddzr2
Our users have posted a total of
17152
messages in
3447
subjects
March 2023
| Mon | Tue | Wed | Thu | Fri | Sat | Sun |
| --- | --- | --- | --- | --- | --- | --- |
| | | 1 | 2 | 3 | 4 | 5 |
| 6 | 7 | 8 | 9 | 10 | 11 | 12 |
| 13 | 14 | 15 | 16 | 17 | 18 | 19 |
| 20 | 21 | 22 | 23 | 24 | 25 | 26 |
| 27 | 28 | 29 | 30 | 31 | | |
Calendar
71 WGT TUTORIALS & 32 YOUNG46 TUTORIALS
CLICK HERE
TO SEE OVER 100 YOUTUBE VIDEO TUTORIALS . FROM WGTers , WGT & YOUNG46
FORUM UPDATE
THIS FORUM IS FOR YOU ALL . PLEASE FEEL LIKE IT IS YOURS . READ THE FORUMS. POST COMMENTS . ASK QUESTIONS . IF YOU HAVE A COMPLAINT POST IT . MAKE SUGGESTIONS . READ SOME TUTORIALS . READ SOME GOLF TIPS . CHECK RECENT TOURNEY WINNERS . BROWSE OUR OLD FORUM ARCHIVES . LOG IN TO THE CHAT AND MESSAGE SOMEONE TO MEET YOU THERE AND ARRANGE A MATCH . LOG IN TO THE CHAT TO SEE IF SOMEONE IS THERE JUST TO SAY HI . MESSAGE ME IF YOU WANT TO GET ON THE DAILY BLITZ .
Owner's Objectives
It's been a while since I expressed some of my objectives for the CC . First of all I like and respect everyone that joins our club . I realize that not everyone knows what a CC is all about . Many have different reasons for joining . I really don't know how many of the other clubs are run . They are all different . What I want to emphasize in our CC is that whatever tier you are . That you feel comfortable here , part of a team of players that come here to find conditions that enable them to improve their game , hone their skills , lower their scores ,lower their averages , move up in tiers . Enjoyably and comfortably with the conditions that challenge them enough to keep that drive without the frustrationsof regular game play . All that is completely possible by either creating those tourneys yourself or by messaging me about it . Or someone else in your tier that has been creating tourneys . Any kind of information that you need to know should be provided here , any kind of appp , calculator , help , tutorial , tournament , statistic , message , opinion , gripe , compliment , etc , etc . Should able to be aqcuired here ( or in our website , as it may be easier there ). With your help , all of this can be done easily . We already have a good start . I am going to be here for a very long time trying to achieve all this . For any of you that think it's a good direction for your CC to go in . Then lets keep on keepin on . Sincerely , Your Co team member PDB1 , Paul ( sitting here on a rare rainy day ) May the SUN always be with you
POST OF THE WEEK
Re:
Where are the Flags ?By Bertasion in Valley of the Sun Casual Club The other day upon the heather fair I hit a flagstick that was not there. I saw it's shadow and heard the clank but where it stood was just a blank. It was not there again today. I wonder when it will come back and stay. Brian
TIER & AVERAGE REQUIREMENTS
BASIC LEVEL AND AVERAGE REQUIREMENTS , AND SATURATION
WHAT YOU CAN DO TO ABOUT IT
WHAT'SUP WHATSAP AND OTHER APPS . HERE IN THIS SITE . THE SKY IS YOUR LIMIT . IF YOU WANT TO PROMOTE , GROW , SHARE , IMPROVE , UPDATE POST AND LEARN ABOUT YOUR PRODUCT OR ANY PRODUCT . YOU CAN DO ALL OF THE ABOVE . JUST DO IT .
WGT Guide
Distance to hole (ft)               Height in inches
99                                        2
Green speed   Green speed factor   Putting Distance   Notes
Slow                      0.1               , 110.9        add 1 foot for short puts, add 1 foot for fringe
Standard                0                  , 101
Fast                     -0.1               ,   91.1
Very Fast              -0.15              ,  86.15
Tournament           -0.2               ,   81.2         subtract 5-10% on puts over 25ft
Championship         -0.3               ,    71.3         subtract 5-10% on puts over 25ft

  THIS ONE IS A LITTLE DIFFERENT. ALL ABOUT THE SAME .
The formula above is based off of the putting tips on the CC forum:
http://www.wgt.com/clubs/valley_of_the_sun_casual_club/forum/t/316450.aspx
basically the formula is:
Distance to hole + (Distance to hole * Green speed factor) +- elevation (1 inch equals 1 foot putting)
The link above explains it in much better detail.
Using that formula, I created a quick spreadsheet, just enter the Distance and Height, and it will calculate the putting distance based on the above formula. Also on tab 2 is a set of tables that can be printed, all that needs to be done is add/subtract elevation.
-Beren
Attachments

WGT - Putting.xlsx

You don't have permission to download attachments.

(25 Kb) Downloaded 40 times

Beren




Posts

: 137


Join date

: 2015-06-04



THANK YOU BEREN . THIS WILL HELP PEOPLE A LOT .
  PAUL
Just for an update, I still use this putting formula, and rarely 3 putt, and in the cases where I do, it is because of not reading the breaks right on a long put or missing the ding by too large a margin.

It is not perfect, as in puts shorter than 10' usually need power added to the shot to keep it from being inches short. Same is true with long puts where you may need to reduce power, but after getting a feel for it, it should get you close. The champion greens may need more tweaking, but I use this when playing on them and it at least gets me close most of the time.

For those who do not have excel or a spreadsheet software that will not read it, let me know, and I will see if I can at least post the table in a .jpg format, then all that needs to be calculated is the adjustment for elevation (by adding/subtracting 1ft per inch).

-Paul (Beren)

Beren




Posts

: 137


Join date

: 2015-06-04



I am not able to download  
ATTACHMENTS
WGT - Putting.xlsx
(25 Kb) Downloaded 3 times
 or view 
your
  xlsx Files . I'm sure others cannot as well .
Thanks for the info. I will post the tables then in graphic format.

Beren




Posts

: 137


Join date

: 2015-06-04



Here are some pics. The first one is an example of using the spreadsheet of a 11ft put with 2in of elevation. For Very Fast it would result in a 11.4ft putting power.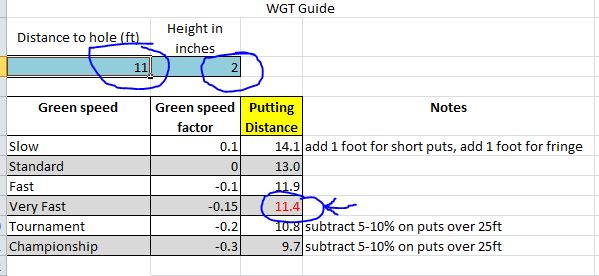 Beren




Posts

: 137


Join date

: 2015-06-04



Table1 1-60Ft, Note that you will get the 11.4ft put in the example above if you take the 11ft for very fast green speed and then add 2ft for the 2 inches elevation.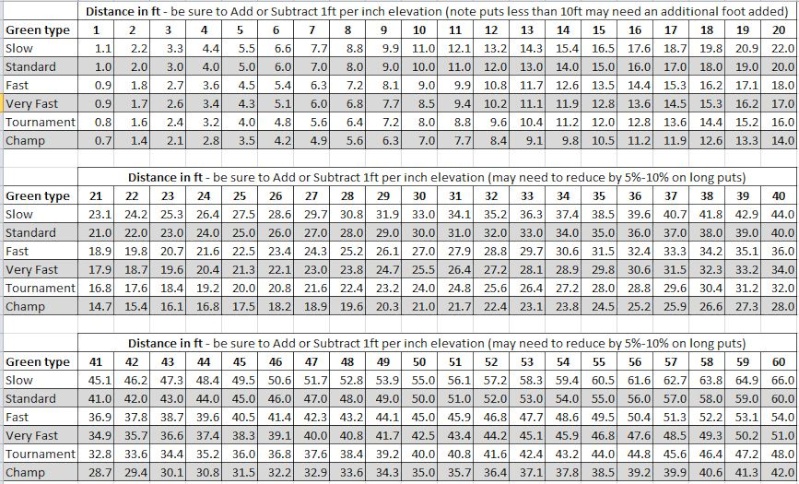 Beren




Posts

: 137


Join date

: 2015-06-04



61 - 120 foot table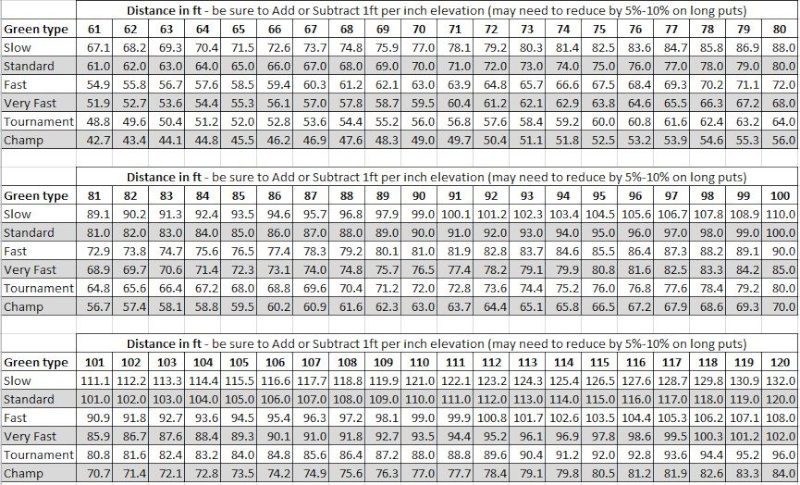 Beren




Posts

: 137


Join date

: 2015-06-04



I'm trying to work on my puting.  I'll give these formulas a shot. Thanks for the info

Andrew

wishman51




Posts

: 20


Join date

: 2015-03-23



I find this formula to be just a little long . 
  For your very fast greens Andrew try dividing the feet by 1.20 . And for tournament greens more like 1.35 . 
  BTW Andrew you know you still have a match with Danwidget .
Similar topics
---
Permissions in this forum:
You
cannot
reply to topics in this forum