THAT'S ENTERTAINMENT
CLICK ON ANY OF THESE LINKS TO FIND OUR EXTREME ENTERTAINMENT
Statistics
We have
383
registered users
The newest registered user is
AQUAWRAP
Our users have posted a total of
10376
messages in
2706
subjects
July 2021
| Mon | Tue | Wed | Thu | Fri | Sat | Sun |
| --- | --- | --- | --- | --- | --- | --- |
| | | | 1 | 2 | 3 | 4 |
| 5 | 6 | 7 | 8 | 9 | 10 | 11 |
| 12 | 13 | 14 | 15 | 16 | 17 | 18 |
| 19 | 20 | 21 | 22 | 23 | 24 | 25 |
| 26 | 27 | 28 | 29 | 30 | 31 | |
Calendar
71 WGT TUTORIALS & 32 YOUNG46 TUTORIALS
CLICK HERE
TO SEE OVER 100 YOUTUBE VIDEO TUTORIALS . FROM WGTers , WGT & YOUNG46
FORUM UPDATE
THIS FORUM IS FOR YOU ALL . PLEASE FEEL LIKE IT IS YOURS . READ THE FORUMS. POST COMMENTS . ASK QUESTIONS . IF YOU HAVE A COMPLAINT POST IT . MAKE SUGGESTIONS . READ SOME TUTORIALS . READ SOME GOLF TIPS . CHECK RECENT TOURNEY WINNERS . BROWSE OUR OLD FORUM ARCHIVES . LOG IN TO THE CHAT AND MESSAGE SOMEONE TO MEET YOU THERE AND ARRANGE A MATCH . LOG IN TO THE CHAT TO SEE IF SOMEONE IS THERE JUST TO SAY HI . MESSAGE ME IF YOU WANT TO GET ON THE DAILY BLITZ .
THE BLITZ SCORECARD IS ON
Page 3
PLEASE CLICK
HERE
TO FIND THE COURSE OF THE DAY AND SEE
THE WEEKLY STANDINGS .
PLEASE POST
YOUR SCORES HERE. IN THIS
KWIK KLIK TO YOUR FAV FORUM
Owner's Objectives
It's been a while since I expressed some of my objectives for the CC . First of all I like and respect everyone that joins our club . I realize that not everyone knows what a CC is all about . Many have different reasons for joining . I really don't know how many of the other clubs are run . They are all different . What I want to emphasize in our CC is that whatever tier you are . That you feel comfortable here , part of a team of players that come here to find conditions that enable them to improve their game , hone their skills , lower their scores ,lower their averages , move up in tiers . Enjoyably and comfortably with the conditions that challenge them enough to keep that drive without the frustrationsof regular game play . All that is completely possible by either creating those tourneys yourself or by messaging me about it . Or someone else in your tier that has been creating tourneys . Any kind of information that you need to know should be provided here , any kind of appp , calculator , help , tutorial , tournament , statistic , message , opinion , gripe , compliment , etc , etc . Should able to be aqcuired here ( or in our website , as it may be easier there ). With your help , all of this can be done easily . We already have a good start . I am going to be here for a very long time trying to achieve all this . For any of you that think it's a good direction for your CC to go in . Then lets keep on keepin on . Sincerely , Your Co team member PDB1 , Paul ( sitting here on a rare rainy day ) May the SUN always be with you
POST OF THE WEEK
Re:
Where are the Flags ?By Bertasion in Valley of the Sun Casual Club The other day upon the heather fair I hit a flagstick that was not there. I saw it's shadow and heard the clank but where it stood was just a blank. It was not there again today. I wonder when it will come back and stay. Brian
BLITZ LIST
HERE IS THE LIST OF BLITZ COURSES IN THE ORDER THEY ARE PLAYED EVERY WEEK OF EVERY SEASON .
DAILY BLITZ WEEKLY SCHEDULE



WEEK 1

BEST OF BANDON PAR 3
PEBBLE BEACH
THE OLYMPIC CLUB
VAHALLA
MERION


WEEK 2

PINEHURST NO.2
HARBOUR TOWN
KIAWAH ISLAND
ROYAL ST. GEORGE
CONGRESSIONAL


WEEK 3

ERIN HILLS
ST. ANDREWS
BALI HAI
CELTIC MANOR
BETHPAGE BLACK


WEEK 4

PINEHURST NO. 8
WOLF CREEK
CHALLANGE AT MANELE
EXPERIENCE AT KOELE
HILVERSUMSCHE


WEEK 5

EDGEWOOD TAHOE
BEST OF WATER SHOTS
BEST OF FAMOUS SHOTS
BEST OF PUTTING
CHAMBERS BAY
TIER & AVERAGE REQUIREMENTS
BASIC LEVEL AND AVERAGE REQUIREMENTS , AND SATURATION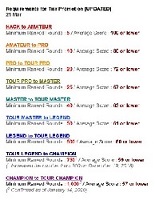 Here are a few jokes....I'm not sure if I've already posted a some, but all are good and would warrant a re-read....Jim

Two guys are standing in line to enter heaven. One turned around and asked the other how he died. "I froze to death. How about you?" "I had a heart attack." "How did that happen?" "Well, I suspected my wife was cheating on me. So after work I went straight home. I ran upstairs to find my wife sleeping by herself. Then I ran back downstairs and looked in all the hiding spots. When I was running back up the stairs, I had a heart attack." "That's ironic." "Why?" "If you would've looked in the damn fridge, we'd both be alive."
*********************************************
I wonder what my parents did to fight boredom before the internet. I asked my 17 brothers and sisters and they didn't know either.
*********************************************
Three old timers at the retirement home were complaining about growing old. The first one says, "I wake up at 7:00 AM and try for a half hour to take a poop." The second one says, "Oh yeah? I spend an hour trying to pee." The third one says, "I take a nice poop at 7:00 and about 7:30 take a nice pee." The other two guys look at him and ask, "What the hell are you complaining about then?" The third man explains, "I don't wake up till 8:30."
*********************************************
An old man goes into the Social Security Office and fills out an application. Too old to have a birth certificate, he is asked to prove he is old enough. He opens his shirt and shows them the gray hair on his chest and they accept that as proof. He goes home to his wife, shows her the check, and explains to her what has happened. She replies, "Well get back down there, pull down your pants, and see if you can get disability!"
*********************************************
In a tiny village lived an old maid. In spite of her old age, she was still a virgin. She was very proud of it. She knew her last days were getting closer, so she told the local undertaker that she wanted the following inscription on her tombstone: "Born as a virgin, lived as a virgin, died as a virgin." Not long after, the old maid died peacefully, and the undertaker told his men what the lady had said. The men went to carve it in, but the lazy no-goods they were, they thought the inscription to be unnecessarily long. They simply wrote: "Returned unopened."
*********************************************
Brunette: "Where were you born?"
Blonde: "California."
Brunette: "Which part?"
Blonde: "All of me I think."
*********************************************
Little Johnny came home from school and heard the word "b*tch." He asks his mom what the word meant and she responds, "It means priest." The next day little Johnny comes home and hears the word "sh*t" and asks his dad what it means. His dad answers, "It means food on the table." At school, he hears the word "f*cking" and asks his mom what it means. She responds, "It means getting ready." The next day a priest came over for dinner and little Johnny opened the door and says, "Hey b*tch. There's sh*t on the table and my parents are upstairs f*cking!"
*********************************************
I got tasered picking up my friend from the airport today. Apparently security doesn't like it when you shout, "Hi Jack!"
*********************************************
A mother tells her little boy, "Johnny, you mustn't eat too many lollies or I'll hide the lolly jar." Johnny asks, "Why?" His mother says, "Because something bad will happen! Your tummy will blow up big like a balloon and then pop!" The next day at church, the boy is sitting next to a pregnant woman. He points to her belly smiling and says, "I know what you've been doing.....my ma made me stop before that happened!" (His mom was horrified!!!!)
*********************************************
Three elderly men are taking a walk outside their nursing home. The first one says, "Windy, isn't it?" The second one says, "No, it's Thursday!" The third one says, "So am I. Let's go get a beer."
*********************************************
There were five people aboard an airplane having engine trouble getting ready to crash, however, there were only four parachutes. Everyone wondered what should be done to determine who should get the parachutes. One person said that he was the smartest thing that hit the face of the Earth, and that he was too smart to die. So, he took one of the parachutes and jumped out of the aircraft. The second person said that she was too important to die, she had children and a family to take care of, and they depended on her to care for them. So, she took one of the parachutes and jumped out of the aircraft. The third person said that he was too important to die because his family depended on him for survival. He was the head of household and the sole bread winner. So, he took one of the parachutes and jumped out of the aircraft. Finally, there were only two people left, and one parachute. One person was a 12 year old boy, and the other was a 65 year old man. The old man said, "Well son, I have lived a good life, and you are too young to die, you have a long life ahead of you. So, you take the last parachute. The boy asked, "Why, Sir?" The old man said, "Well, there is only one parachute left." The little lad said, "Sir there are really two parachutes left." The old gentlemen asked, excitedly, "Yeah? How?" "Well," replied the boy, "you know that guy who thought he was the smartest and greatest thing that hit the face of the Earth? He grabbed my backpack."
*********************************************
A man saw a lady with big breasts. He asked, "Excuse me, can I bite your breasts for $1000?" She agrees, so they go to a secluded corner. She opens her blouse and the man puts his face in her breasts for 10 minutes." Eventually the lady asks, "Aren't you gonna bite them?" He replies, "No, it's too expensive."
*********************************************
Late one night, a preacher was driving on a country road and had a wreck. A farmer stopped and said, "Sir, are you okay?" The preacher said, "Yes, I had the Lord riding with me." The farmer said, "Well, you better let him ride with me, because you're gonna kill him."
*********************************************
A child goes to his father and asks, "Father, how do parents think of names for their children?" The father answers, "Well, son, the night before the mother gives birth, the father goes into the woods and camps for the night. When he wakes the following morning, the first thing he sees is what he names his child, which is why your sister is named Soaring Eagle. Why do you ask, Bear Turd?"
*********************************************
A doctor tells an old couple at his office he needs to get a stool sample, a urine sample, and a blood test from the old man. Hard of hearing, the old man asks his wife what the doctor said. The wife replies, "He needs a pair of your underwear."
*********************************************
You know you're getting old when your wife says, "Honey, lets run upstairs and screw," and you answer, "Pick one....I can't do both."
*********************************************
Innkeeper: "The room is $15 a night. It's only $5 if you make your own bed."
Guest: "Ok, I'll make my own bed then."
Innkeeper: "Good. I'll get you some wood and nails".
*********************************************
Contest in a girl's college: write a short story which contains religion, sex and mystery.
Winner's story: "Oh god, I am pregnant, I wonder who did it."

JimQ916




Posts

: 379


Join date

: 2014-12-31



---
Permissions in this forum:
You
cannot
reply to topics in this forum