THAT'S ENTERTAINMENT
CLICK ON ANY OF THESE LINKS TO FIND OUR EXTREME ENTERTAINMENT
Statistics
We have
383
registered users
The newest registered user is
AQUAWRAP
Our users have posted a total of
10376
messages in
2706
subjects
July 2021
| Mon | Tue | Wed | Thu | Fri | Sat | Sun |
| --- | --- | --- | --- | --- | --- | --- |
| | | | 1 | 2 | 3 | 4 |
| 5 | 6 | 7 | 8 | 9 | 10 | 11 |
| 12 | 13 | 14 | 15 | 16 | 17 | 18 |
| 19 | 20 | 21 | 22 | 23 | 24 | 25 |
| 26 | 27 | 28 | 29 | 30 | 31 | |
Calendar
71 WGT TUTORIALS & 32 YOUNG46 TUTORIALS
CLICK HERE
TO SEE OVER 100 YOUTUBE VIDEO TUTORIALS . FROM WGTers , WGT & YOUNG46
FORUM UPDATE
THIS FORUM IS FOR YOU ALL . PLEASE FEEL LIKE IT IS YOURS . READ THE FORUMS. POST COMMENTS . ASK QUESTIONS . IF YOU HAVE A COMPLAINT POST IT . MAKE SUGGESTIONS . READ SOME TUTORIALS . READ SOME GOLF TIPS . CHECK RECENT TOURNEY WINNERS . BROWSE OUR OLD FORUM ARCHIVES . LOG IN TO THE CHAT AND MESSAGE SOMEONE TO MEET YOU THERE AND ARRANGE A MATCH . LOG IN TO THE CHAT TO SEE IF SOMEONE IS THERE JUST TO SAY HI . MESSAGE ME IF YOU WANT TO GET ON THE DAILY BLITZ .
THE BLITZ SCORECARD IS ON
Page 3
PLEASE CLICK
HERE
TO FIND THE COURSE OF THE DAY AND SEE
THE WEEKLY STANDINGS .
PLEASE POST
YOUR SCORES HERE. IN THIS
KWIK KLIK TO YOUR FAV FORUM
Owner's Objectives
It's been a while since I expressed some of my objectives for the CC . First of all I like and respect everyone that joins our club . I realize that not everyone knows what a CC is all about . Many have different reasons for joining . I really don't know how many of the other clubs are run . They are all different . What I want to emphasize in our CC is that whatever tier you are . That you feel comfortable here , part of a team of players that come here to find conditions that enable them to improve their game , hone their skills , lower their scores ,lower their averages , move up in tiers . Enjoyably and comfortably with the conditions that challenge them enough to keep that drive without the frustrationsof regular game play . All that is completely possible by either creating those tourneys yourself or by messaging me about it . Or someone else in your tier that has been creating tourneys . Any kind of information that you need to know should be provided here , any kind of appp , calculator , help , tutorial , tournament , statistic , message , opinion , gripe , compliment , etc , etc . Should able to be aqcuired here ( or in our website , as it may be easier there ). With your help , all of this can be done easily . We already have a good start . I am going to be here for a very long time trying to achieve all this . For any of you that think it's a good direction for your CC to go in . Then lets keep on keepin on . Sincerely , Your Co team member PDB1 , Paul ( sitting here on a rare rainy day ) May the SUN always be with you
POST OF THE WEEK
Re:
Where are the Flags ?By Bertasion in Valley of the Sun Casual Club The other day upon the heather fair I hit a flagstick that was not there. I saw it's shadow and heard the clank but where it stood was just a blank. It was not there again today. I wonder when it will come back and stay. Brian
BLITZ LIST
HERE IS THE LIST OF BLITZ COURSES IN THE ORDER THEY ARE PLAYED EVERY WEEK OF EVERY SEASON .
DAILY BLITZ WEEKLY SCHEDULE



WEEK 1

BEST OF BANDON PAR 3
PEBBLE BEACH
THE OLYMPIC CLUB
VAHALLA
MERION


WEEK 2

PINEHURST NO.2
HARBOUR TOWN
KIAWAH ISLAND
ROYAL ST. GEORGE
CONGRESSIONAL


WEEK 3

ERIN HILLS
ST. ANDREWS
BALI HAI
CELTIC MANOR
BETHPAGE BLACK


WEEK 4

PINEHURST NO. 8
WOLF CREEK
CHALLANGE AT MANELE
EXPERIENCE AT KOELE
HILVERSUMSCHE


WEEK 5

EDGEWOOD TAHOE
BEST OF WATER SHOTS
BEST OF FAMOUS SHOTS
BEST OF PUTTING
CHAMBERS BAY
TIER & AVERAGE REQUIREMENTS
BASIC LEVEL AND AVERAGE REQUIREMENTS , AND SATURATION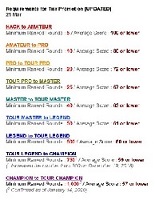 Hi everyone...here's a few jokes for today....there are no really "off color" jokes here, but a couple are toeing the line. Enjoy.....Jim


The old couple had been married for 50 years. They were sitting at the breakfast table one morning when the wife says, 'Just think Homer, fifty years ago we were sitting at this same breakfast table together.' 'I know,' the old man said. 'We were probably sitting here naked as a jaybird, too .' 'Well,' Granny snickered. 'Let's relive some old times.' Where upon, the two stripped to the buff and sat back down at the table. 'You know, honey,' the little old lady breathlessly replied, 'My *** are as hot for you today as they were fifty years ago.' 'I wouldn't be surprised,' replied Homer. 'One's in your coffee and the other is in your oatmeal.'
************************************************************
A statue of a naked woman and a naked man stand in a park at night. Suddenly from out of nowhere, a magical genie arrives and grants the statues each one wish to be fulfilled. Both the female and male statues agree on 15 minutes as a real man and woman in the bushes behind them to "get things done." The genie gives a knowing grin and grants the wish. The man and woman immediately jump behind the bushes and screaming sounds and laughter can be heard from their activities. 12 minutes later they return to the front of the bush again claiming they are finished. "Well now, that was kinda quick!" the genie says. "You can do it a second time for the remaining 3 minutes if you want," the genie tells them, winking his eye. Both the female and male look at each other and smile. The man says to the woman, "Okay great, but this time you get to hold the pigeon so I can *** on him!"
************************************************************
Five out of six people agree that Russian Roulette is safe.
************************************************************
Q: You're trapped in a room with a tiger, a rattlesnake and a lawyer. You have a gun with two bullets. What should you do?
A: Shoot the lawyer. Twice.
************************************************************
Q: Why do nursing homes give the male patients Viagra?
A: To keep them from rolling out of bed.
************************************************************
Two guys are driving down 5th Avenue in Manhattan when they come up to a red light. The guy driving slams the gas pedal and they go zooming past the red light. His friend looks at him and says, "Hey, you just went through a red light." The guy driving says, "Don't worry about it. My brother does it all the time." So they keep driving and they come to a second red light. The guy driving slams on the gas pedal and zooms past another red light. His friend is pretty mad, looks at him and says, "Hey man, you just went through another red light. What the heck are you doing?" The guy driving tells his friend, "Don't worry about it. My brother does this all the time." They come to a third red light and the guy driving slams on the gas, zooming past the red light. His friend starts screaming at him, "What the heck? You're going to get us killed! Pull over and let me out." The guy driving screams back at him, "I'm telling you: don't worry about it. My brother, he does it all the time." So they keep driving and they come to a green light. The guy driving slams on the brakes. His friend looks at him and says, "Are you out of your mind? What the heck is wrong with you? You go flying past three red lights, almost getting us killed, and then you slam on the brakes when you have a green light?" The guy driving looks at his friend and says, "I had to stop; my brother might have been coming."
************************************************************
Once there was a farmer that was very protective of his three daughters. When they told him they were going to go out on dates one night, the farmer decided to wait outside with a shotgun. The first boy arrived for the first daughter, and he said, "Hi, my name is Freddy. I'm here for Betty. We're going for spaghetti. Is she ready?" The farmer decided he was decent enough, and let them go. The second boy arrived for the second daughter, and said, "Hi, my name is Joe. I'm here for Flo. We're going to a show. Is she ready to go?" Again, the farmer decided he was decent enough and let them go. Finally, the last boy came, and he said, "Hi, my name is Chuck..." and the farmer shot him.
************************************************************
Chuck Norris pulled the pin in a grenade, threw it, killed 50 men, and then the grenade exploded.
************************************************************
A construction worker on the third floor of a building needs a handsaw. He sees one of the laborers on the first floor and yells down to him, but the man indicates that he can't hear. So, the guy on the third floor tries to use signs. He points to his eye, meaning, "I," then at his knee, meaning, "need," and he moves his hand back and forth, meaning, "handsaw." The man on the first floor nods, then drops his pants and begins to masturbate. The man on the third floor freaks out and runs down to the first floor yelling, ''What the hell is wrong with you!? Are you stupid or something? I was saying that I needed a handsaw!'' The laborer looks at the carpenter and says, ''I knew that. I was just trying to tell you that I was coming.''
************************************************************
Jim, Scott and Alex are tired after traveling all day and check into a hotel, which is the only one with in 100 miles. When they get to reception, they find out they'll have to walk 75 flights of stairs to get to their room because the elevator is out of order. Jim suggests that they do something interesting to pass time while they walk the 75 flights. Jim will tell jokes, Scott will sing songs, and Alex will tell sad stories. So Jim tells jokes for 25 flights, Scott sings songs for 25 flights and Alex tells sad stories for 24 flights. When they reach the 75th floor, exhausted, Alex tells his saddest story of all, "Guys, I left our room key at reception."
************************************************************
Two rednecks were walking along when they saw a dog licking its balls. The first redneck said, "I wish I could do that." The other redneck said, "You dumb ass, he would bite you."
************************************************************
The teacher asked little Johnny to use the word "definitely" in a sentence. Little Johnny replies, "Teacher, do farts have lumps in them?" The teacher says, "Of course not Johnny." To which Johnny replies, "Then I have definitely s**t my pants."
************************************************************
Q: What's red and smells like blue paint?
A: Red paint.
************************************************************
A computer once beat me at chess, but it was no match for me at kick boxing.
************************************************************
A new patient was quite upset when the doctor's nurse led him to a small, curtained cubicle and told him to undress. "But I only want the doctor to look at an ingrown toenail!" he protested. "Our rule is that everyone must undress," replied the blond nurse. "That's a stupid rule," grumbled the patient, "making me undress just to look at my toe." "That's nothing," growled a voice from the next cubicle. "I just came to fix the phones!"
 
************************************************************
A young boy was walking along the docks one day admiring the ships, when a man walked up behind him and said, "Thinking of becoming a sailor?" "Yes, I am!" replied the boy. "Well," the man said, "I have sailed many years and have had many adventures." The boy looked the man up and down, and saw that he had an eye patch, a peg leg, and a hook. "I would love to hear of your adventures," said the boy. "Well," the man said, "I was sailing around the Cape of Good Hope when I encountered pirates. They boarded my boat and I fought them 'til there was only one left. But before he got away he cut off my leg!" "That sounds terrible!" exclaimed the boy. "Aye lad, it was, but I got over it and continued sailing the seas." "How did you get the hook?" inquired the boy. "I was once again sailing around the Cape of Good Hope on my way home when I encountered the same pirate with a whole new crew. They boarded me again and I fought down to the last man, only this time as he got away, he cut of my hand!" "That is awful!" the boy once again exclaimed. "Aye lad, but again I got over it and continued sailing the seas." "Tell me how you got the eye patch! Was it the pirates again?" "No lad, this time I was just out fishing one day, I heard the cry of a gull, and when I looked up it shyt in me eye!" "Pardon me sir, but I didn't know you could lose an eye from gull sh*t." "Well lad, 'twas the first day with me hook!!!"
************************************************************
A three-foot tall dwarf walks into a bar and slips over on a pile of poop. Minutes later a huge tough guy walks into the bar and slips over on the pile of poop, the dwarf says to the big guy, "I just did that," and the big guy punches the dwarf in the face.
************************************************************
 
The following is a courtroom exchange between a defense attorney and a farmer with a bodily injury claim. It came from a Houston, Texas insurance agent.

Attorney: "At the scene of the accident, did you tell the constable you had never felt better in your life?"

Farmer: "That's right."

Attorney: "Well, then, how is it that you are now claiming you were seriously injured when my client's auto hit your wagon?"

Farmer: "When the constable arrived, he went over to my horse, who had a broken leg, and shot him. Then he went over to Rover, my dog, who was all banged up, and shot him. When he asked me how I felt, I just thought under the circumstances, it was a wise choice of words to say."
************************************************************
Q: Why don't witches wear underwear?
A: So they can get a better grip on the broom.
************************************************************
Q: What is the difference between a dead skunk in the middle of the road and a dead lawyer in the middle of the road?
A: There's skid marks in front of the skunk.
************************************************************
One day a farmer wakes up to go check on his cheese cow. He walks up and finds her dead in the grass. The man is so upset he kills himself. Then his wife wakes up. She finds her husband dead and goes to the lake and kills herself. Next the first son wakes up and notices everybody is dead. He goes down to the river and sees a mermaid. She swims up to him and says, "Having a bad day, huh? I'll tell you what. If you make love to me ten times in a row without stopping, I'll bring everyone back to life. But if you don't, I will kill you." He tries to do it, but doesn't make it. She kills him. Then the second son wakes up and after seeing his dead parents, also goes to the river where he sees his dead brother. The same mermaid swims up and tells him what she told his brother. He says , "10 times is great, but If I make love to you 20 times, what will you do?" She tells him, "If you are able to perform 20 times in a row, I will bring everyone back and make you the richest man alive." He then asks, "Well if I do it 20 times in a row, what's stopping you from dying?" The Mermaid asked him why he thought she would....the man replied "That's what happened to the cow."

JimQ916




Posts

: 379


Join date

: 2014-12-31



---
Permissions in this forum:
You
cannot
reply to topics in this forum