September 2023
| Mon | Tue | Wed | Thu | Fri | Sat | Sun |
| --- | --- | --- | --- | --- | --- | --- |
| | | | | 1 | 2 | 3 |
| 4 | 5 | 6 | 7 | 8 | 9 | 10 |
| 11 | 12 | 13 | 14 | 15 | 16 | 17 |
| 18 | 19 | 20 | 21 | 22 | 23 | 24 |
| 25 | 26 | 27 | 28 | 29 | 30 | |
Calendar
Statistics
We have
464
registered users
The newest registered user is
kumarsharma91910
Our users have posted a total of
33527
messages in
5015
subjects
THAT'S ENTERTAINMENT
CLICK ON ANY OF THESE LINKS TO FIND OUR EXTREME ENTERTAINMENT

71 WGT TUTORIALS & 32 YOUNG46 TUTORIALS
CLICK HERE
TO SEE OVER 100 YOUTUBE VIDEO TUTORIALS . FROM WGTers , WGT & YOUNG46
FORUM UPDATE
TO THE MANY WELCOME GUESTS . THIS FORUM IS NO LONGER A COUNTRY CLUB WEBSITE FOR A WGT COUNTRY CLUB . PLEASE FEEL FREE TO READ THE FORUMS.

THERE ARE MANY TOPICS OF INTEREST . OR NOT . THIS WEBSITE IS AN INFORMATION AND ENTERTAINMENT WEBSITE ONLY .

MUCH OF THE CONTENT IS ARCHIVES OF PURPOSES PAST .

THERE ARE SOME MORE CURRENT TOPICS .
REGISTRATION IS NOT NECESSARY TO READ THROUGHOUT .

REGISTRATION IS EASY AND FREE . THIS IS AN AD FREE WEBSITE . NOTHING IS EVER REQUESTED FROM REGISTERED MEMBERS .
REGISTRATION ENABLES COMMENTING ON TOPICS . POSTING NEW TOPICS . FULL ACCESS TO THE WEBSITE IMAGE HOST . WHICH IS A VERY COMPLETE AND CONVENIENT TOOL .

PLEASE ENJOY .

ALL NEW
TIER & AVERAGE REQUIREMENTS
BASIC LEVEL AND AVERAGE REQUIREMENTS , AND SATURATION
WHILE YOUR HERE
WHILE YOUR HERE :
CHECK OUT THE INCREDIBLE PHOTOGRAPHY IN

MY SERIES

&

& MORE . ALL IN THE FORUM
THIS USED TO BE THE HOME OF OUR WORLD CLOCK . WHICH CAN NOW BE FOUND IN ITS OWN FORUM ON THE MAIN PAGE ..
THERE ARE MORE WORLD CLOCKS INSIDE HERE .
BLITZ 16
Supposedly . We'll see .

I BUILT THE WALL
WEBSITE LINK


pdb1
25,122 Posts
Sun, Aug 16 2020 7:41 PM
  I have copied and pasted enough to boggle ones mind . Just what I have saved here in WGT is enormous .
  If you have ever seen my website . You know all that is nothing compared to what I put into that as I built it from scratch  5 , 6 , 7 years ago .
  One of the coolest projects . Is one that I called " THANKS FOR A WALL OF A GOOD TIME " .
  In 2013 I started saving my wall posts to a forum in my site . All of them . Or most anyway . Coulda missed a few . It was going real well . Until I decided to up the security in my website . By activating my SSL Certificate .
Basically
You can have a secure internet address (HTTPS) for free. Your community will be able to access your forum in an entirely secured way. In addition, sites secured via an SSL certificate benefit from a better SEO. A 301 redirection will be implemented as soon as it is activated (http to https).
  As that might be a good idea for some . I decided , not so much for me .
  One critically bad issue I had with it . Was that it corrupted the profile pics in all 5 years and 5 long pages of the WGT users in my wall posts .
  All of them . Hundreds of them . Permanently . No changing back . And according to the " support " they don't believe the SSL Certificate was the culprit . Anyway above every post there was this .....

And no avatar . F... A DUCK !
  Not going to let that ruin it . I vowed to restore " THANK YOU FOR A WALL OF A GOOD TIME ".
  By deleting the bad code from every post . And reducing the dozens of new post entries to just a few .
  I did that .
  I found a couple of things . One was the posts all looked funny without their avatar .
  Which was another cool thing about my original effort . Was that in my website . WGT profile pics don't change when you change them here . So I had a lot of posts that had various members old pics . I thought that was a bonus cool . But now all of them were gone .
  Next I worked on restoring a profile pic to everyones post . That's over 300 WGTers . Some of them with multiple and dozens of posts . These will be all of their current pics .
 The other problem I found was when I copied a group of wall posts . I often overlapped to be sure I didn't miss one . Well that added up to dozens of duplicates . Which had to go .
  The other thing was that the WGT wall posts are dated from latest to earliest top to bottom . That had to change to earliest to latest top to bottom .
  So rather than get too anal about it . Each month is a mixture .
IE . jan 12
  jan 20
  jan 5
  jan 6
  jan 27 etc , etc .
  Alright . Now is when I emphasize that those years of wall posts had a GR8 amount of significance to me . And you . And to all almost 300 WGTers that posted to my wall for years .
  I just want to thank you .
  The following list is a fairly complete list of wall posters . If you find yourself on this list . Then you at some point posted on my wall .
This wall list is the first big list I compiled .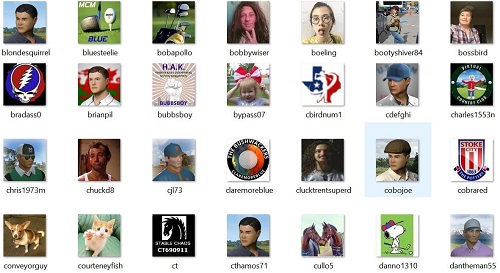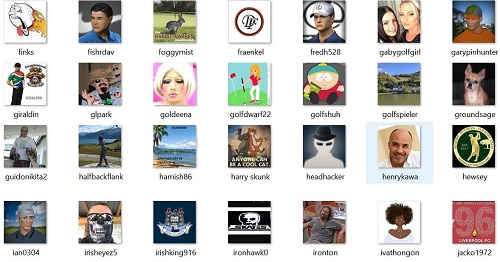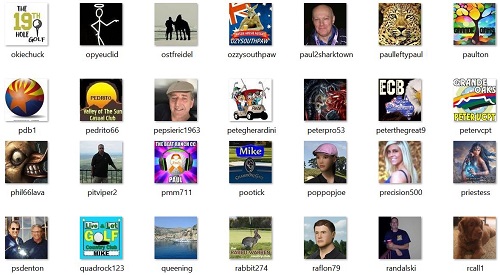 I have also renamed the forum . It is now called . " THE NEW LONG WALL " .You can see those posts . By clicking below .
THE NEW LONG WALL. Click to go to it . No registration should be necessary to view it .
  Go ahead and check it out . It is now only 1 long page . I think you will enjoy it . 
  If anyone is interested in viewing more . Feel free . There is only one forum not accessible to non registered users . It is ...
  I realize this isn't as big of a thing for anyone else . I like that I did it . And I like all the positive feedback . I even like the negative . But for the most part I love positive interaction .


craigswan
28,239 Posts
Mon, Aug 17 2020 11:58 AM
I want to be on your wall .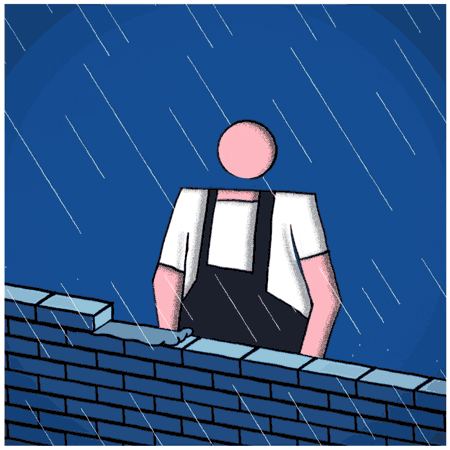 pdb1
25,122 Posts
Mon, Aug 17 2020 3:55 PM
  There are some of my forums that have a GR8 deal more content than this wall one .
  One of the best is this one .
ANDYSON MEMORIAL TOURNAMENT COLLECTION 2016
And the all new
ANDYSON LIBRARY
a colorful look at the 1st Memorial Tournament )THE FULL TOURNAMENT ART2016
  The above is the artwork . I just found out that the play by play of all the rounds has a similar corruption as the wall did . I've got to fix it . OMG what a mess .
Another is .
YANCYCAAN FILM FESTIVAL
And another
HEY JOE
Another new one is
And also
THE WGT VIDEO & LIVE SERIES FORUM
`
Similar topics
---
Permissions in this forum:
You
cannot
reply to topics in this forum